Another aftershock strikes northern Chile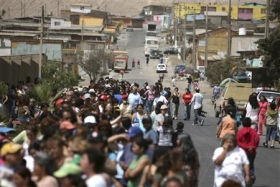 WASHINGTON (Reuters) - A 5.6 magnitude earthquake rattled northern Chile on Sunday, the latest aftershock to hit the area since a deadly tremor on Wednesday, the U.S. Geological Service said.
There were no early reports of damage or injuries from Sunday's quake, which was centered in the Pacific about 40 miles north-northwest of Antofagasta, Chile, near the mineral-rich country's northern border with Peru.
On Wednesday, a 7.7 magnitude quake near Antofagasta collapsed homes and buildings, killing two people and injuring 115. On Thursday, two aftershocks with magnitudes of 6.2 and 6.8 hit northern Chile and a 6.0 tremor shook the area on Saturday.
At least 15,000 people were left homeless by Wednesday's quake, which temporarily halted production at Chile's huge copper mines by cutting off power, the government has said.