Iran won't use oil as weapon if attacked: Ahmadinejad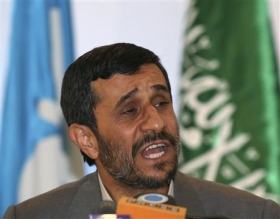 RIYADH (Reuters) - Iran's President Mahmoud Ahmadinejad said on Sunday his country would not use oil as a weapon even if it is attacked by the United States over Tehran's disputed nuclear program.
"We would never like to use oil as a weapon ... there are other means at our disposal to respond," Ahmadinejad told a news conference held after a summit of the Organization of the Petroleum Exporting Countries. His remarks were translated into English from Persian.
Washington has not ruled out military action against Iran, accusing it of seeking nuclear weapons. Tehran says its nuclear program is peaceful.
Ahmadinejad said Iran would study a Gulf Arab proposal to set up a body in a neutral country such as Switzerland that would provide enriched uranium to Middle East users including Iran and ensure it is used for peaceful purposes only.
"We will closely and positively study (the proposal)," Ahmadinejad said.
Iran has welcomed the plan but said it would not halt uranium enrichment on its own territory.
Gulf countries -- Saudi Arabia, Kuwait, Oman, Qatar, Bahrain and the United Arab Emirates -- share Western concerns over Iran's nuclear energy program.
Ahmadinejad said OPEC leaders had discussed a decline in the value of the dollar at the two-day summit.
"Today all leaders were unhappy with the fall in the value (of the dollar) ... even the American people have lost out," Ahmadinejad said, adding that only "a handful of capitalists" benefited from the U.S. currency's slide.
"They get our oil and give us a worthless piece of paper," he said.
(Reporting by Andrew Hammond; writing by Firouz Sedarat; Editing by Braden Reddall)