Oil falls below $95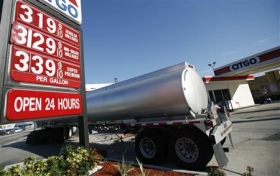 By Randy Fabi
LONDON (Reuters) - Oil fell below $95 a barrel on Tuesday as investors bet that the OPEC exporter group will boost supply for a second time this year at a meeting next week to cool near-record prices.
Influential Saudi Oil Minister Ali al-Naimi gave nothing away on Tuesday about what action the group will take on December 5, but Indonesia's Oil Minister said he would back an increase of 500,000 barrels per day (bpd).
U.S. oil dropped $3.10 to $94.60 a barrel by 9:20 a.m. EST. London Brent crude fell by $2.77 to $92.55.
"OPEC has been making a lot of noise about an output increase and that's why we see weak numbers today," said Tony Nunan, risk manager for Mitsubishi Corp.
Technical factors were also pressuring the market after prices surged to a record of $99.29 a barrel last week, traders said.
"The market is taking a breather from this $100 talk," a London-based trader said. "I wouldn't read too much into this sell-off."
The Saudi oil minister said the kingdom, the world's top exporter, had raised production to 9 million bpd, slightly more than its target under an OPEC deal to boost output from November 1.
Naimi declined to comment on what the group will do next week in Abu Dhabi.
"We will look at all information available, and decide accordingly, on whatever the information tells us about supply, demand, inventories," Naimi said in Singapore, where he is due to speak at an energy conference on Wednesday.
OPEC member Indonesia said it would support a supply boost.
"I will support OPEC on a new production increase," said Energy Minister Purnomo Yusgiantoro on Tuesday.
OPEC ministers will weigh the risks of a credit slump and potential recession curbing demand in top consumer the United States, against concerns of a supply shortfall during the peak winter demand season.
Consumer worries over dwindling stockpiles, an influx of financial funds and the unprecedented weakness of the U.S. dollar have driven oil to record highs near $100 in recent weeks.
The U.S. dollar recovered on Tuesday from news that Citigroup Inc <C.N> will sell a stake to the Abu Dhabi government.
Prices could rebound on expectations of cold weather in the United States that would draw down heating fuel stocks.
The onset of colder weather in the U.S. Northeast, a major consumer of heating oil, has also bolstered prices as traders bet that higher winter demand will strain inventories.
U.S. distillates inventories, which include heating oil, are likely to fall by 1.4 million barrels when data for last week is reported on Wednesday.
Crude stocks are expected to fall by 800,000 barrels while gasoline was forecast to rise by 1.0 million barrels, a preliminary Reuters survey found.
(Additional reporting by Jiwon Chung in Singapore and Peg Mackey in London, Editing by James Jukwey)