U.S. asks Japan to "refrain" from whaling expedition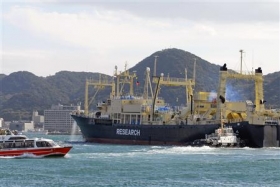 WASHINGTON (Reuters) - The United States urged Japan on Monday to "refrain" from a research whaling expedition that environmental activists contend is for commercial purposes and will, for the first time, target humpbacks.
A Japanese whaling fleet departed on Sunday from Shimonoseki port in southwestern Japan for the Antarctic Ocean.
Environmental group Greenpeace said if the fleet does not heed its demands to return home, it will follow the expedition to protest against the hunt.
Greenpeace said the Japanese fleet aims to catch more than 1,000 whales, including 50 humpbacks and some 50 fin whales, which environmentalists say are endangered.
State Department spokesman Sean McCormack said the United States recognizes Japan's legal rights under the Whaling Convention to conduct this hunt, but noted that there were "nonlethal ways to conduct scientific research."
"We call on Japan to refrain from conducting this year's hunt, especially with respect to humpback and fin whales," he said.
The United States also urged restraint by those who may be planning protests against the Japanese fleet, McCormack said.
Japan abandoned commercial whaling in accordance with an international moratorium in 1986, but began the next year to conduct what it calls scientific research whaling.
The whale meat, which under rules set by the International Whaling Commission must be sold for consumption, ends up in supermarkets and restaurants.
Japan has long argued that its whaling program promotes the understanding of whale stocks and species.
(Reporting by Joanne Allen, editing by Chris Wilson)