South Korea land grab hurting shore birds: study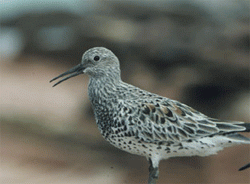 By Jon Herskovitz
SEOUL (Reuters) - Land reclamation in South Korea is taking a heavy toll on shore birds by destroying the habitat that once served as a main source of food to sustain their global migration, a study released on Tuesday said.
South Korea completed its Saemangeum land reclamation project on its west coast in 2006. It covers an area of 400 square km (155 sq miles) -- about seven times the size of Manhattan.
"All shore bird species that formerly staged there regularly have been affected, and most species have shown declines," said the study from Birds Korea and the Australasian Wader Studies Group.
Migratory birds traveling between Russia and Alaska in the north to New Zealand and Australia in the south congregate for refuelling stops at Yellow Sea tidal flats to feast on shellfish and other food.
"The whole of the Yellow Sea is an amazing crossroads for migratory shore birds," said Nial Moores, a British-born conservationist and director of Birds Korea.
Among the species most affected at Saemangeum are the Great Knot, which numbered about 88,000 in mid-May 2006 but fell to about 3,500 a year later, and Bar-Tailed Godwit, the study said.
The groups in 2006 started a three-year survey on the number of shore birds at Saemangeum and adjacent sites.
The loss of tidal flats had also hurt water quality in the area and led to mass deaths of marine animals, the study said.
South Korea, now one of the world's largest economies, launched its reclamation project decades ago to increase its farm land when it was trying to rise from the ashes of the 1950-1953 Korean War.
The government has said it is trying to develop other shore areas for the migratory birds.
A separate study in May said migratory shore birds are starving and at least two species face extinction due to the reclamation project that has removed one of the largest feeding grounds on the Yellow Sea for 400,000 birds that pass a year.
(Editing by Jonathan Thatcher and David Fogarty)