EU urges Japan to stop whale hunt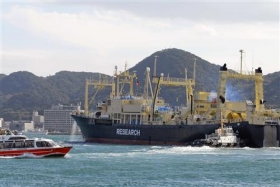 BRUSSELS (Reuters) - The European Commission urged Japan on Tuesday to stop a hunt it said could kill up to 1,000 mink, fin and humpback whales.
"There is no need to use lethal means to obtain scientific information about whales," the European Union executive said in a statement, noting that fin and humpback whales were classified as endangered by the World Conservation Union.
"The European Commission urges Japan to reconsider its decision and stop the hunt," it said.
A Japanese whaling fleet left on Sunday for an expedition that activists say will for the first time target humpbacks.
The United States has also urged Japan to "refrain" from the trip. Japan says whaling is a cherished cultural tradition and says the hunt is for research purposes.
Whale meat ends up in Japanese supermarkets and restaurants.
(Reporting by Jeff Mason; editing by Sami Aboudi)