Indiana approves 630 MW Duke clean-coal plant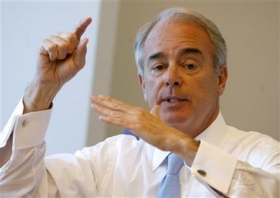 NEW YORK (Reuters) - Indiana regulators gave Duke Energy approval on Tuesday to build a $2 billion 630-megawatt clean coal plant.
The Indiana Utility Regulatory Commission said it approved the plant, which will gasify coal using integrated gasification combined cycle technology.
The process separates out regulated pollutants, such as mercury, as well as carbon dioxide, the main greenhouse gas.
The CO2 would then have to be buried underground to keep it from reaching the atmosphere.
The new plant will replace an existing 160 MW coal plant that was built in the 1940s and 1950s.
(Reporting by Timothy Gardner)
For additional analysis on carbon markets and climate change policy please join the online Reuters carbon community at http://www.reutersinteractive.com/carbon.