Whole Foods sales top expectations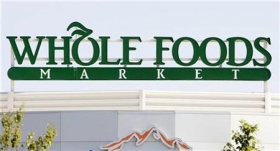 By Nichola Groom
LOS ANGELES (Reuters) - Whole Foods Markets Inc reported quarterly sales above Wall Street targets and raised its dividend 11 percent, saying it had not seen a dip in consumer spending that has hurt other retailers.
Shares rose slightly despite a drop in net profit related to costs of its acquisition of rival grocer Wild Oats Markets.
Whole Foods, which features natural and organic foods, posted its highest same-store sales increase in a year.
"Whenever the economy gets weak everybody comes out and says Whole Foods sales are going to fall. However, that's never been the case," Chief Executive John Mackey said on a conference call with analysts, adding that the grocer had not seen any weakness in places where the housing market has softened, such as California.
"We're not seeing any weakness in our California stores due to so-called bubble bursting. We're doing extremely well in California," Mackey said.
Whole Foods said net profit fell 15 percent to $33.9 million, or 24 cents a share, in the fiscal fourth quarter ended September 30, from $39.8 million, or 28 cents a share, a year earlier.
Sales rose 25 percent to $1.74 billion -- above analysts' average forecast of $1.614 billion, according to Reuters Estimates.
Same-store sales, which tracks sales at stores open at least a year, were up 8.2 percent. It was the company's best quarterly same-store sales performance since last year's fourth quarter.
Whole Foods, which bought Wild Oats in August for $565 million, has faced increasing competition as other grocers expand their offerings of organic, natural and prepared foods. The company said it bought Wild Oats so it could compete more effectively with those stores, but the deal was delayed for months as U.S. antitrust authorities tried to block it.
Since the deal closed, Whole Foods said it has upgraded perishable offerings and cut prices on 1,000 products at Wild Oats stores. The company also plans to spend $40 million to $50 million to remodel the Wild Oats stores, which will be rebranded as Whole Foods markets.
For fiscal 2008, Whole Foods expects same-store sales to rise between 7.5 percent and 9.5 percent. For the first seven weeks of the first quarter, same-store sales are up 9.5 percent, the company said.
At Wild Oats stores, same-store sales are up 6.6 percent so far in the current quarter compared with a rise of 3.9 percent in the fourth quarter.
For the year, total sales are expected to rise between 25 percent and 30 percent, Whole Foods said. About 10 percent of that is expected to come from Wild Oats stores.
Whole Foods, based in Austin, Texas, also said its board of directors raised its common stock dividend by 11 percent to 20 cents a share.
Whole Foods operates 269 stores and has a goal of reaching $12 billion in sales in fiscal 2010.
Its shares rose to $42.50 in after-hours trading after closing at $42.25 on Nasdaq.
(Reporting by Nichola Groom; Editing by Gary Hill)