Last private NYC island left to the birds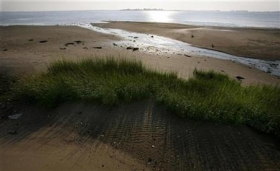 By Christine Kearney
NEW YORK (Reuters) - The last private island in New York City, an untamed speck of land with spectacular views of the Manhattan skyline, was preserved on Tuesday for its current residents -- snowy egrets and black-crowned night herons.
South Brother Island -- a 7-acre (2.8-hectare) vacant island in the East River between The Bronx and Queens -- was handed over to the city on Tuesday to be protected as a bird nesting ground, officials said.
They said the $2 million deal was unusual due to the combination of the island's central location yet relatively untouched landscape.
"It has stunning views; it is very idyllic," said John Calvelli, senior vice president for the Wildlife Conservation Society. The island's overgrown trees, vines and various bird species make it "one of the last wild places left in New York," he said.
Officials said the wind-swept island would have been unlikely to attract high bids from real estate developers because it is only accessible by boat, but it might have been turned into an industrial facility or prison, like neighboring Rikers Island.
Instead, the island, which has been held in private hands since the Dutch settled almost four centuries ago, will be kept as a nesting area for migratory birds and preserved by New York City's Parks Department.
"How often do you buy an island and give it to the city in the same day?" said Rep. Jose Serrano, who helped broker the deal between its former owner, Hampton Scows Inc., and the Trust for Public Land, which bought the island with money from the federal government and turned it over to the city.
Hampton Scows, a New York sand and gravel company, bought the island in the 1970s for $10, the congressman said. Before that, owners included beer baron and former New York Yankees baseball team owner Col. Jacob Ruppert, who died in 1939 after he built a house on the island that later burned down.
Officials said the island's future reflected a focus on cleaning up the environment surrounding The Bronx. The only possible future human contact with the island might be in the form of eco-tourism.
(Editing by Daniel Trotta and Cynthia Osterman)