Paulson says will work to improve housing bill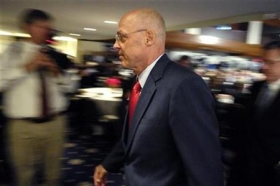 By David Lawder
JEDDAH (Reuters) - U.S. Treasury Secretary Henry Paulson said on Friday he has some problems with the housing rescue plan under consideration in the U.S. Senate, but will work to craft a bill that President George W. Bush can sign.
Paulson, speaking to reporters on his plane to Saudi Arabia for a four-day trip to meet Middle East leaders, said he backed provisions in the bill for a stronger regulator for major housing finance sources Fannie Mae <FNM.N> Freddie Mac <FRE.N>, but his view of the mortgage guarantee provisions was mixed.
"Some parts of the legislation are modestly helpful and others are not helpful," Paulson said. "It's a big part of my job to work to get the strongest possible housing bill on the president's desk so he can sign it and we can get GSE reform."
The comments were Paulson's first on a proposed mortgage guarantee fund in the bill passed by a Senate committee on May 20 and suggest that he will continue to press lawmakers for changes. Up until now he has only praised the portion of the bill that reforms oversight of the two government sponsored enterprises.
Paulson, who will visit Saudi Arabia, Qatar and the United Arab Emirates, will tell leaders in the region that housing remains the biggest downside risk to the U.S. economy, which is going through a "tough period" and is under pressure from high oil prices.
Despite data on Friday showing that first quarter growth was slightly better than previously thought, Paulson said there was still difficulty ahead.
"My message is not changing. I'm not declaring victory. I'm going to say we're going through a tough period, that I believe growth will be relatively stronger by year end. I don't know that, but I believe it," he said.
Paulson also said he will emphasize the United States' commitment to staying open to foreign investment and will urge regional leaders to do the same, particularly in the energy sector.
(Reporting by David Lawder. Editing by Richard Satran)