Sudanese troops hunt for rebels in Khartoum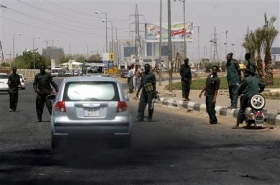 By Opheera McDoom
KHARTOUM (Reuters) - Sudanese forces hunted for suspected Darfur rebels in Khartoum on Monday after an unprecedented rebel attack at the weekend and detained Islamist opposition leader Hassan al-Turabi before releasing him.
Bursts of gunfire kept Khartoum on edge. It was the first time fighting had reached the capital in decades of conflict between the traditionally Arab-dominated central government and rebels from far-flung regions in the oil-producing country.
Darfur rebel leader Khalil Ibrahim told Reuters he would keep up attacks until President Omar Hassan al-Bashir's government fell. About 65 people were believed to have been killed in the attack that began on Saturday.
"This is just the start of a process and the end is the termination of this regime," Ibrahim, of the Justice and Equality Movement (JEM), said by satellite phone. "Don't expect just one more attack."
Sudan accuses neighboring Chad of backing the rebels and broke off diplomatic ties with its neighbor on Sunday. Chad's government said on Monday it was closing its border with Sudan.
Chad has denied involvement but political analysts say it may have backed the JEM in retaliation for an attack on the Chadian capital three months ago by rebels it said were supported by the Sudanese government.
Exchanges of fire could be heard on the outskirts of Omdurman, across the Nile from the heart of Khartoum and where fighting raged at the weekend. A shooting incident in central Khartoum sent workers fleeing in panic.
An Interior Ministry official said some rebels were still holed up in parts of Omdurman and a curfew there was extended indefinitely.
Abdel Majid Abdel Farid, a local official, told Reuters from the neighboring Kordofan state that Sudan's army had engaged JEM rebels about three hours drive outside Omdurman.
"There are civilian casualties," he said, adding wounded were arriving in his town of Hamrat al-Wizz.
JEM denied there were any clashes. "We know that Khartoum has sent Chadian rebels to the area from Darfur but we have not engaged them yet," al-Tahir al-Feki, a senior JEM official, told Reuters by satellite phone.
Al-Tahir al-Feki, a senior JEM leader, told Reuters by phone: "We have forces in those areas and we understand that some of the Chadian rebels that have been recruited by the Sudan government, they were sent from El-Fasher to meet some of our forces in those areas and there has been some clashes. But we will drive them back for sure."
RELEASED WITHOUT CHARGE
Opposition leader Turabi, who said a rebel attack on Khartoum could improve prospects for peace in Darfur, and at least four other top members of his Popular Congress Party (PCP) were detained and held for 12 hours. They were released without charge, his daughter said.
"This ... actually looks quite promising as everyone will have to behave rationally and engage in a political process for Darfur, for neighborly relations and moving towards elections that would engage all political parties," Turabi, who was once close to Osama bin Laden, told Reuters after his release.
Presidential adviser Ghazi Atabani Salahadin told Reuters Turabi's arrest was part of an investigation into possible inside help received by the rebels.
"I'm not sure if they found any evidence ... It was a pre-emptive thing to see if there was any help provided from inside," he said.
The JEM, one of several Darfur rebel groups, has an Islamist agenda and some of its leaders were allies of Turabi in the past, but he denies backing the rebels.
Mutrif Siddig, under-secretary at the Foreign Ministry, said the government was ready for further attacks. He said he doubted Ibrahim's assertion that he was still in Omdurman.
"We have some lessons learned and we will be better prepared if he dares to do so," he said.
The rebels made a lightning advance across 600 km (400 miles) of desert and scrub from the western Darfur region to attack Khartoum on Saturday in what one of their leaders called a bid for power.
A peace deal between north and south ended one civil war in 2005 and boosted Sudan's economy by increasing oil production in the south, but that agreement did not cover the conflict that erupted in Darfur five years ago.
(Editing by Andrew Dobbie)
(For full Reuters Africa coverage and to have your say on the top issues, visit: http://africa.reuters.com/)