Carbon dioxide at record high, stoking warming: WMO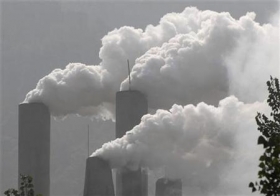 By Alister Doyle, Environment Correspondent
OSLO (Reuters) - Levels of carbon dioxide, the main greenhouse gas emitted by burning fossil fuels, hit a record high in the atmosphere in 2006, accelerating global warming, the World Meteorological Organization (WMO) said on Friday.
But concentrations of methane, the number two heat-trapping gas, flattened out in a hint that Siberian permafrost is staying frozen despite some scientists' fears that rising temperatures might trigger a runaway thaw.
"In 2006, globally averaged concentrations of carbon dioxide in the atmosphere reached their highest levels ever recorded," the WMO said. Carbon dioxide is the main gas from human activities blamed by the U.N. climate panel for stoking warming.
The WMO said levels rose 0.53 percent from 2005 to 381.2 parts per million of the atmosphere, 36 percent above levels before the Industrial Revolution began in the 18th century.
Levels of nitrous oxide, the number three greenhouse gas produced by burning fuels and by industrial processes, also rose to a record with a 0.25 percent gain in 2006. Levels are 320 parts per billion, 19 percent above pre-industrial times.
"Atmospheric growth rates in 2006 of these gases are consistent with recent years," the WMO said in a report. Rising levels could disrupt the climate, producing more heatwaves, floods, droughts and rising ocean levels.
But levels of methane, which comes from sources such as rotting vegetation in landfills, termites, rice paddies and the digestive process of cows, dipped 0.06 percent to 1,782 parts per billion in 2006.
"Methane levels have been flattening out in recent years," Geir Braathen, WHO's senior scientific officer, told Reuters. Still, methane levels are 155 percent higher than before the Industrial Revolution.
"A widespread melt of Siberian permafrost is a possibility but there is no sign of it in this data," he said, referring to some scientists' fears that frozen methane in the permafrost could be released by rising temperatures and accelerate warming.
"If it was happening it would turn up in these figures," he said.
Braathen also said the relative importance of carbon dioxide was increasing, contributing 91 percent of the total heating effect of greenhouse gases in the atmosphere in the past five years from 87 percent in the past decade.
Emissions of some heat-trapping gases blamed for depleting the planet's protective ozone layer also dipped in 2006.
More than 190 nations will meet in Bali, Indonesia, from December 3-14 to try to launch two years of negotiations on a new global treaty to succeed the Kyoto Protocol, the main U.N. plan for fighting global warming.
-- For Reuters latest environment blogs click on:
http://blogs.reuters.com/environment/
(Editing by Tim Pearce)