Jellyfish swarm hits Scotland prompting warnings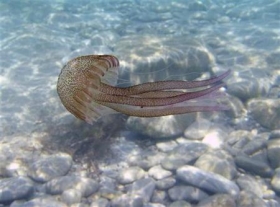 LONDON (Reuters) - Millions of stinging baby jellyfish have been spotted off Scotland just days after another swarm wiped out Northern Ireland's only Salmon farm, the Marine Conservation Society said on Friday.
The organization, which said the abnormal swarms of baby mauve stinger and compass jellyfish were due to wind and tidal factors, urged fish farmers and the public to report any sightings to help monitor their progress.
"It is quite unusual for this number of juvenile jellyfish to be occurring in UK waters at this time of year," said Anne Saunders, MCS Scottish Projects Officer.
"But these blooms are phenomenal and consist of millions of individuals, being washed here by strong Atlantic currents."
Compass jellyfish are common in British waters during the summer, but mauve stingers are relatively uncommon.
In recent years the mauve stinger has bloomed in vast numbers in the Mediterranean, forming a major bathing hazard.
"Jellyfish swarms can impact on fish and shellfish farms, and while the conditions causing these current events remain unclear, such swarms may become more prevalent in Scottish waters as a result of climate change," Saunders said.
(Reporting by Jeremy Lovell; editing by Elizabeth Piper)