Last from Antarctica shipwreck reach Chile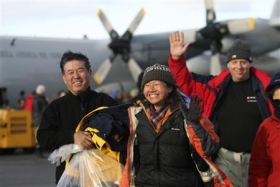 By Ivan Alvarado
PUNTA ARENAS, Chile (Reuters) - The last survivors of a cruise ship that sank in frigid Antarctic waters two days ago arrived in southern Chile on Sunday, visibly weary but happy to be alive.
The captain of the sunken Explorer cruise ship, Bengt Wiman, descended from the C130 Hercules aircraft in Punta Arenas and gave a thumbs up to bystanders before he entered the airport terminal.
The rest of the group, mostly crew and younger passengers from the Canadian-owned vessel, plodded after him in borrowed clothes, haggard and offering no comment.
"This is the last of them. They are all doing well, in good health and in good spirits and they've been taken to their hotel," said Reinaldo Neulling, a Chilean air force spokesman.
Their arrival marked the end of an ordeal for 154 passengers and crew that began near midnight on Thursday when their small ship, owned by Canadian travel company G.A.P. Adventures, struck ice and took on water off King George Island in Antarctica.
The passengers and crew escaped unhurt after being evacuated by lifeboats from the 38-year-old vessel.
They spent most of that first night huddled in lifeboats before being picked up by a Norwegian passenger boat and taken to Chile's Eduardo Frei air base in Antarctica.
Weather conditions then worsened, with howling winds and snowdrifts around the base barracks, forcing the shipwreck survivors to wait for weather to clear to allow them to be airlifted out to Chile.
Survivors were flown to Punta Arenas in two groups. The first arrived on Saturday evening and was made up mostly of passengers. The second had to spend another night at the base before being flown back to Chile on Sunday.
SHACKLETON'S EXPEDITION
Filled with vacationers from the United States, Canada, Britain, Australia, Europe, Japan, Argentina and elsewhere, the Explorer was a week away from completing a trip that followed a famous expedition early in the last century by Anglo-Irish explorer Ernest Henry Shackleton.
The ship, which offered two-week cruises around Antarctica at a cost of some $8,000 (4,000 pounds) per cabin, sank hours after the passengers and crew were evacuated.
Smaller than most cruise ships, the Explorer, built in 1969 and refitted in 1993, was able to enter narrower bays off the continent and scientists were on board to brief passengers on the region's geology and climate change.
The growing number of tourists landing in Antarctica, mainly from cruise ships, has raised fears over the impact it could have on the continent's fragile environment.
There is also concern that the size and type of vessels operating in dangerous southern waters has the potential for an environmental and human disaster if a large ship were to sink in Antarctic seas.
King George Island lies about 700 miles south of Cape Horn, the tip of South America, and is the largest of the South Shetland islands.
(Reporting by Pav Jordan))