Former Pakistani PM Sharif arrives home from exile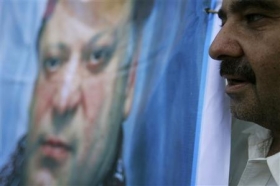 LAHORE, Pakistan (Reuters) - Former Pakistani prime minister Nawaz Sharif arrived in the Pakistani city of Lahore on Sunday after seven years of exile, Dawn Television said.
Ousted by army chief General Pervez Musharraf in a bloodless military coup in 1999 and exiled to Saudi Arabia a year later, Sharif tried to return home in September, but was sent back to Saudi Arabia within hours.
But this time Musharraf, who imposed emergency rule on November 3, reluctantly agreed to allow Sharif back from exile in Saudi Arabia to lead his party in a January 8 general election.
(Reporting by Kamran Haider)