Israel sees Hamas gone from Gaza in months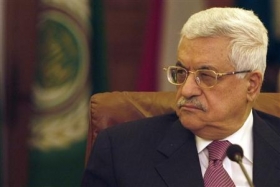 JERUSALEM (Reuters) - Israeli leaders vowed on Monday to step up their war against Hamas and predicted the Islamists' grip on the Gaza Strip would end within months.
Two days after a rocket from the enclave wounded an Israeli child and prompted dramatic headlines in a country grown used to daily barrages that do little damage, Defence Minister Ehud Barak pledged to step up the Israeli military campaign.
Prime Minister Ehud Olmert said Israel was at "war" and his deputy, Vice Premier Haim Ramon, said he expected Hamas, which seized control in June, to be forced out within the year.
"I believe a combination of steps against Hamas in Gaza will bring an end to the Hamas regime in Gaza," Ramon said. "It will take a few months, maybe it will take a year."
Hamas sources said Hamas leaders were keeping a low profile, apparently to avoid assassination attempts. Asked who Israel could be targeting, minister Shaul Mofaz said: "Everyone, without exception."
Olmert faces public pressure for tougher reprisals after an 8-year-old Israeli boy wounded in a weekend barrage of rocket fire had part of his leg amputated. His 19-year-old brother was also hurt in Saturday's attack in the town of Sderot.
Olmert told reporters in Berlin: "Our security forces have the approval to take ... what they see as all the necessary steps, with our agreement, so the situation can be changed."
Militants in Gaza hit southern Israel daily with rockets and mortars, in what Hamas says is a response to Israeli attacks. Hundreds of attacks have killed two Israelis in the past year.
Officials in Gaza say Israel killed some 350 Palestinians there last year. Israeli human rights group B'Tselem put the 2007 toll at 290, about a third of them civilians.
Scores of residents from the Israeli border town of Sderot, which has been hardest hit by the rocket fire, held a second day of protests on Monday calling for harsher government action.
Israel has tightened economic sanctions in Gaza since Hamas seized control in June after routing Palestinian President Mahmoud Abbas's secular Fatah faction. But Olmert is wary of launching a major ground offensive in the densely populated coastal territory for fear of heavy casualties on both sides.
A broader Israeli military campaign could also complicate peace talks, which U.S. President George W. Bush hopes will lead to a deal before he leaves office to create a Palestinian state in the West Bank and Gaza Strip.
"WISHFUL THINKING"
Abbas's government said in a statement broader action in Gaza could threaten peace moves and trigger more tit-for-tat violence. It urged the United States and international community to press Israel for restraint.
Olmert gave his strongest hint yet on Sunday that Israel could renew political assassinations. Ramon echoed those comments, saying the army should target all Hamas leaders "directly or indirectly" involved in attacks against Israelis.
He also said Israel should respond to rockets by immediately attacking areas from where salvoes were launched and by further restricting electricity and fuel -- a strategy denounced as "collective punishment" by international organizations.
Hamas dismissed Ramon's comments as "wishful thinking" and said Israel was in cahoots with Abbas, who holds sway in the West Bank and is pursuing U.S.-backed peace talks with Israel.
Palestinians elected Hamas to power in 2006 but it was shunned by the West for refusing to renounce violence. Abbas sacked the Hamas-led government after the Gaza takeover.
Ramon reiterated that if Hamas stopped the rocket fire from the Gaza Strip, Israel could agree to a ceasefire. He also said action against Hamas in Gaza should go hand-in-hand with stepped-up peace negotiations with Abbas.
However, he also said Israel expected to be able to conclude only a broad "declaration of principles" this year with Abbas -- not the full settlement of the conflict that the Palestinians want. Ramon said Bush took a similar view to Israel, although the U.S. president said during a visit to the West Bank last month that he expected a "peace treaty" this year.
Hamas has offered a long-term truce with Israel in return for a viable Palestinian state in the West Bank and Gaza. It has also offered a ceasefire if Israel ends its military action.
Barak said the army would work in "every way" to stop the rockets, would intensify air strikes and ground incursions and was preparing for a possible extensive operation in Gaza.
The Jewish state pulled troops and settlers out of the territory in 2005 but still controls most of its borders.
(Additional reporting by Nidal al-Mughrabi in Gaza, Jeffrey Heller in Berlin, Mohammed Assadi in Ramallah, Brenda Gazzar and Dan Williams in Jerusalem; Writing by Rebecca Harrison; Editing by Alison Williams)