Retail traffic up with spending down in holiday start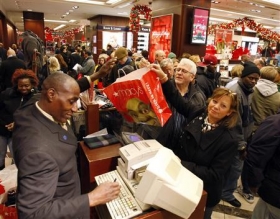 By Martinne Geller
NEW YORK (Reuters) - Deep discounts and extended hours drew more than 147 million shoppers to U.S. stores over the four-day Thanksgiving holiday shopping period, but average consumer spending fell, a retailers' group said on Sunday.
The results from the National Retail Federation's 2007 Black Friday Weekend Survey were attributed to the economic uncertainty facing consumers and tough comparisons with last year.
Black Friday is the day retailers try to lure consumers to start their holiday shopping with eye-popping discounts and early-bird specials. It once marked the day retailers turned a profit, or went into the black, for the year.
The survey, which included data from Thursday to Saturday and projections for Sunday, showed customers spent an average of $347.44, down 3.5 percent from $360.15 last year.
But the decline was offset by a 4.8 percent increase in the number of shoppers, making the weekend's total spending results "extremely similar" with last year, said federation spokeswoman Ellen Davis.
The federation did not give a figure for total spending.
While fears about lower home values, a shaky stock market and higher costs for food and fuel could have played some role, Davis said the decline was more due to the focus this year on mid-priced items like laptop computers and digital photo frames, versus last year's emphasis on expensive high-definition televisions.
"It takes a lot of $400 laptops to reach the same level as the $1,300 high-definition TV," Davis said.
SpendingPulse, the retail data service of MasterCard Inc <MA.N> unit MasterCard Advisors, estimated total spending for Friday through Sunday will reach $42 billion to $43 billion. That would be a 4.5 percent to 5.5 percent increase over last year.
SpendingPulse tracks sales activity in the MasterCard payments network and couples it with estimates of all other payment forms.
This year's increase was helped by the ever-earlier start times, Michael McNamara, vice president of research and analysis for SpendingPulse, said.
To get a jump on the many retailers which opened their doors at 5 a.m. this year, J C Penney Co Inc <JCP.N> opened at 4 a.m. Some malls, including Citadel Outlets in Los Angeles, opened as early as midnight on Thursday.
According to a Reuters/Zogby poll from last week a growing number of U.S. consumers said they planned to spend less on gifts this holiday season amid concerns about the U.S. housing downturn and fears that the economy might be heading toward a recession.
The federation said the weekend's results did not change its projection that total holiday sales will rise 4 percent this year, the slowest growth in five years.
BLACK FRIDAY AS INDICATOR
"This weekend, as big as it is, only represents about 10 percent of total holiday shopping volume. We still have 90 percent of the season in front of us," McNamara said. "The growth rate you see on this holiday weekend doesn't necessarily translate to the growth rate you see for the overall season," he added.
Last year, according to SpendingPulse data, sales during the Thanksgiving weekend rose 7.5 percent from the year before, while the overall holiday season only rose 6.6 percent.
SpendingPulse this year is expecting total holiday sales to rise between 3.5 percent and 4.5 percent.
"Black Friday is not generally a great indicator of the holiday season overall, but it can give us a sense of consumer sentiment," Davis said.
But some trendy stores did not need deep discounts to lure crowds on Black Friday, said Needham & Co analyst Christine Chen, noting long lines at Los Angeles-area Abercrombie & Fitch Co <ANF.N>, Hollister, American Eagle Outfitters Inc <AEO.N> and Guess? Inc <GES.N> stores despite modest or no promotions.
"If you have the right merchandise, Christmas will come," Chen said.
(See http://blogs.reuters.com/category/themes/shop-talk/ for "Shop Talk" -- Reuters' retail and consumer blog)
(Reporting by Martinne Geller; Editing by Kenneth Barry)