U.S aircraft join Bangladesh storm relief effort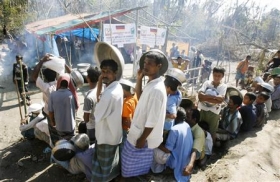 By Nizam Ahmed
DHAKA (Reuters) - U.S helicopters and a C-130 aircraft dropped supplies of food and water to survivors of Bangladesh's worst cyclone since 1991, as a military-led relief operation finally hit a war-footing on Monday, 10 days after the storm struck.
A medical team from the USS Kearsarge set up emergency health care in Barisal, a town on the southern coast, where survivors requiring urgent attention will be airlifted from remote areas, officials said.
Cyclone Sidr, which hit the impoverished South Asian country on November 15 with winds of 250 kph (155 mph) and a 5-foot tidal surge, killed about 3,500 people, left thousands missing or injured, and displaced 2 million.
Despite the intensified relief operations, thousands of survivors had yet to get food and water due to washed out roads and fallen trees. Many crowded river banks and roadsides in the hope of food handouts, reporters said.
The Bangladesh army, which is leading the relief effort, said it had had discussions with U.S. officials and supplies will start reaching the remote areas.
"I hope the discussion was fruitful and the U.S. forces will engage helicopters to airlift foods and medicines to survivors," said Brigadier-General Abidus Samad, an operations commander of Bangladesh army.
UNABLE TO COPE
Bangladesh's air force, flying relief sorties with 13 helicopters and planes, was unable to cope with all the problems in the cyclone-hit areas, officials said.
On Monday, U.S. helicopters made five sorties carrying 2,500 gallons of water, while a C-130 aircraft brought food supplies to Barisal, the centre of the relief effort, officials said.
A total of 92 helipads have been built in the worst-hit coastal villages for relief helicopters from the U.S. and Bangladesh.
The U.S. helicopters are drawn from the amphibious assault ship USS Kearsarge which arrived in Bangladesh waters on Friday to assist the authorities, U.S. embassy officials said.
The ship carries about 20 helicopters, which will help in delivering water, food and medical supplies to remote areas in the south and southwestern regions, officials said. Another ship was due to arrive soon, officials said.
"The U.S. warship has come to give us humanitarian assistance," Iftekhar Ahmed Chowdhury, adviser to the interim government on foreign affairs, told reporters.
"They (U.S.) will not stay a day more then needed, and none should take it otherwise," adviser to the interim government Major-General (retired) M.A. Matin told a private television channel. He did not elaborate.
Bangladesh, a Muslim country of 140 million, has seen strong opposition to the U.S.-led war in Iraq.
"Some Asian powers do not like to see the U.S. operating at this sensitive military area," a defence analyst asking not to be identified, told Reuters.
(Additional reporting by Masud Karim; Editing by Bill Tarrant)