China defends product safety regulatory system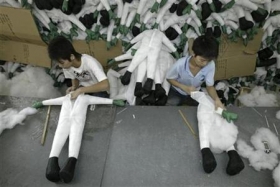 BEIJING (Reuters) - Chinese officials on Tuesday defended a system of having multiple departments oversee the nation's food and product quality, saying practice had shown this was the best way to tackle problems.
China, reeling from a series of scandals over tainted and substandard goods, has come under fire for failing to set up a central regulatory authority.
The health and agriculture ministries, the food and drug administration and the quality watchdog all have different degrees of responsibility for product safety.
Health Minister Chen Zhu said this topic had come up at a just-concluded international forum on food safety in Beijing, but insisted the government was coordinating action properly.
"The point I must underline is that under the strong leadership of the State Council, the inter-departmental coordination mechanism for product quality and food safety has all along been working effectively," Chen told reporters.
Vice Premier Wu Yi, who led China's 2003 fight against SARS, has been tasked with restoring confidence to the made-in-China label after a disastrous couple of months marked by global toy recalls and pet deaths linked to poisonous feed.
Chen said he was confident Wu would succeed, helped by quality chief Li Changjiang.
Li added he was also confident in the system as it stood.
"Practice over the past few years has shown that this system has played a very positive role and yielded results. Whether in the future it is possible reforms will be taken to address imperfections in the system, that is unknown," he said.
"But the overall direction of any reform will be to the benefit of food safety."
Jorgen Schlundt, head of the World Health Organization's Food Safety Department, said that while overlapping regulatory layers could be a problem, it was not unique to China, which in any case had been working to address the issue.
"In all countries where you have several responsible authorities you can have problems," he said.
"It has been a problem in China where you have a very separated system, where the system was not seamlessly functioning, which is the same problem you have had in many countries."
(Reporting by Ben Blanchard; editing by Roger Crabb)