London 2012 organizers promise low-carbon flame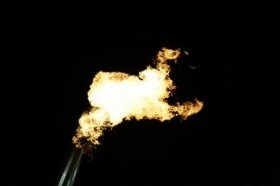 By Martyn Herman
LONDON (Reuters) - The flame burning over the 2012 London Olympic Stadium will use a low-carbon fuel, organizers said on Monday.
"It's early days but it will happen," a spokesman for French energy company EDF, London 2012's sustainability partner, told reporters after a series of environmental targets were announced.
"We are working with the organizing committee (LOCOG) and we will see what options there are for a low carbon fuel for the cauldron. It's a challenge because a 'clean' flame would be invisible and that would not be ideal."
A spokesman for the LOCOG said they were looking into alternative fuels but added it was important for the flame to still be visible day and night.
"We are looking for a flame of the right quality but with a low carbon footprint," he said.
One option is for the cauldron, which traditionally burns day and night throughout the two-week Games, to use an eco-gas such as methane instead of the more polluting natural gas or paraffin.
London 2012's sustainability plan was at the heart of its winning bid and has five main themes; climate change, waste, biodiversity, social inclusion and healthy living.
"We hope to use the power of the games to drive change, behaviorally and in the way big events are staged in the future," LOCOG chairman Sebastian Coe told reporters.
(Editing by John Mehaffey)