McCain runs strong despite low Bush ratings: poll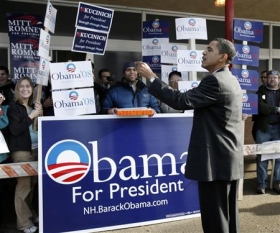 WASHINGTON (Reuters) - Presumptive Republican presidential nominee John McCain remains a strong candidate despite a gloomy national mood and record low ratings for President George W. Bush, according to a Washington Post-ABC New poll released on Monday.
Weighed down by the unpopular Iraq war and a faltering economy, Bush's job performance rating slipped to a career low 31 percent, the poll found.
Eighty-two percent of Americans now say the United States is seriously on the wrong track, up 10 points in the last year, with a third of respondents citing the economy and jobs as their top voting issue.
Overall, Democrats have a 21-point advantage over Republicans as the party best-equipped to handle the nation's problems, the poll found.
Despite the numbers, McCain continues to elude some of the anger aimed at his party and at Bush, according to The Washington Post.
Campaigning against McCain, Democrats claim he offers a third Bush term.
In a general election matchup, McCain trails Democratic front-runner Barack Obama by 7 points, 44 percent to 51 percent. In a head-to-head competition with U.S. Sen. Hillary Clinton, McCain runs almost even with the New York Democrat, 46 percent to 49 percent.
According to the poll, 60 percent of Democrats now say Obama is the one with the better shot at defeating McCain in November.
Trailing Obama in pledged delegates, the popular vote and superdelegates, Clinton has shown no sign of quitting the race for the Democratic presidential nomination and voters do not appear ready to push her out.
Nearly two-thirds of Democrats and Democratic-leaning independents said Clinton should stay in the race and 40 percent said she should be Obama's running-mate if he becomes the Democratic nominee.
The telephone poll of 1,122 adults was conducted May 8-11, 2008, among a random national sample of 1,122 adults. The results from the full survey have a 3 point error margin; among the 620 leaned Democrats the margin of error was 4 points.
(Writing by JoAnne Allen; Editing by Doina Chiacu)