Bush welcomes Gore to White House for talks on climate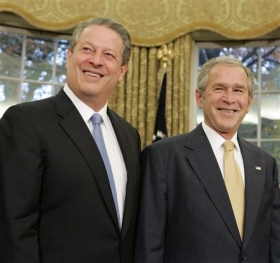 By Jeremy Pelofsky
WASHINGTON (Reuters) - President George W. Bush on Monday welcomed defeated Democratic presidential rival Al Gore to the White House for the first time since 2001, celebrating Gore's Nobel Peace Prize and discussing global warming.
Gore, who lost the bitterly contested 2000 U.S. presidential election and has clashed with Bush over environmental policy, had a private meeting with Bush in addition to the traditional photo with the American 2007 Nobel award winners.
"It was very nice, very cordial, he was very gracious in setting up the meeting and it was a very good and substantive conversation," Gore told reporters after a 40-minute talk with Bush in the Oval Office.
Bush has rejected the 1997 Kyoto Protocol, which was a treaty Gore helped negotiate to set limits on industrial nations' greenhouse gas emissions. Bush, who has said mandatory caps would hurt the U.S. economy, favors voluntary targets.
Despite the warm White House visit, there was no sign of detente between Bush and Gore over climate change policy.
"It was a private conversation," Gore said repeatedly to a throng of reporters, avoiding giving details. "Of course we talked about global warming, of course, the whole time."
Bush stood silently next to Gore during the group photo and the White House declined to comment on their chat.
In addition to moving the date for the gathering to accommodate Gore's schedule, Bush personally phoned the former vice president to confirm he could attend Monday's event and congratulate him for winning the prize.
It was Gore's first time back in the Oval Office since he left as vice president in 2001. The two have spoken about four times since the disputed 2000 election, including when Gore conceded defeat and at the 2004 dedication of former President Bill Clinton's library in Arkansas.
Gore shared the $1.5 million Nobel prize with the U.N.'s Intergovernmental Panel on Climate Change for their efforts to focus international attention on the threat of global warming.
He has lectured extensively on the threat of climate change and won an Oscar award for best documentary earlier this year for his short film "An Inconvenient Truth" in which he gives his slide show presentation on global warming.
With a Nobel award and an Oscar in hand, some Democrats have been pressing Gore to seek the presidency in the November 2008 election. The former vice president has repeatedly denied he plans to run for the White House again.
Trying to duck the mob of photographers and reporters, Gore with his wife, Tipper, dashed across the street into an office building. "Don't report that we jay-walked," he said as they crossed in the middle of the block through traffic.
(Editing by Stuart Grudgings)