Al Qaeda behind attack on Karzai, spy chief says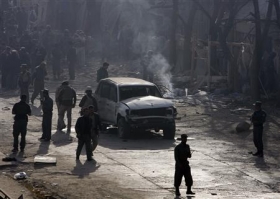 By Sayed Salahuddin
KABUL (Reuters) - Al Qaeda in Pakistan was behind last week's assassination attempt on Afghan President Hamid Karzai, Afghanistan's intelligence chief said on Sunday.
The head of Afghanistan's National Directorate of Security, Amrullah Saleh, said foreign governments should put pressure on Pakistan to destroy militant bases within its borders.
Taliban gunmen fired rocket-propelled grenades and small arms at a state parade last Sunday, sending Karzai, his cabinet and military top brass as well as foreign diplomats diving for cover.
Three people were shot dead before Afghan troops killed three Taliban attackers.
Investigations by Afghan security forces showed that at least two officials from the defense and interior ministries were involved in the attack, Saleh said. The officials suspected of involvement have been arrested in recent days.
But he added they had links with al Qaeda in Miramshah, Pakistan's tribal region near the border with Afghanistan, and branded the network the mastermind of the attack, the most brazen by the Taliban since their ouster in 2001.
"Al Qaeda's role and involvement in the attack is very clear," Saleh told a news conference.
"They have bases (in Pakistan). They are supplied financially and logistically. They receive very sophisticated training ... We have always said that pressure on their bases, combined with our intelligence can destroy them," he added.
He said with regret there was "little and sometimes no pressure" on the militants training bases, indirectly referring to Pakistan.
While the Taliban have carried out sporadic suicide bombings in Kabul before, last week's attack, together with a guerrilla-style assault on a five-star hotel in the capital in January, indicate a more sophisticated mode of attack.
The Taliban have vowed to target Kabul this year as part of their campaign to overthrow Karzai's government and drive out the more than 55,000 foreign troops stationed in the country.
Pakistan itself which has seen attacks by militants over the past year says it does all it can to crush al Qaeda and other militants who fled there after the U.S.-led invasion that toppled Taliban's government in Afghanistan in 2001.
(Editing by Keith Weir)