EU agrees quota cuts to save bluefin tuna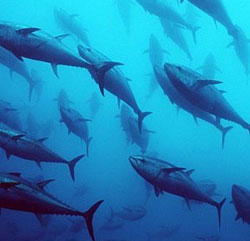 By Jeremy Smith
BRUSSELS (Reuters) - EU governments agreed a 15-year plan on Tuesday that set strict curbs on fishing for bluefin tuna, cutting quotas and tightening port inspections to stop the species from heading for extinction.
Prized by sushi and sashimi lovers, bluefin tuna has seen its numbers fall sharply in eastern Atlantic and Mediterranean waters. In Japan, the major market for the species, a single fish can command prices of up to $100,000.
"The difference now is that it (plan) is permanent, not temporary, and nobody is arguing any more about quotas. We now have complete clarity and are set up for 15 years from 2007," one official at the European Commission told reporters.
The plan reduces catch quotas progressively each year for these waters, raises minimum fish sizes for landing, extends several "closed" fishing seasons and set outs paperwork requirements to trace tuna catches through the processing chain.
EU governments will now have to draw up annual fishing plans detailing how they intend to allocate fishing rights -- vessels longer than 24 meters will get individual quotas; smaller vessels will get their quotas by groups -- and notify the EU Commission of each plan by end-January.
Minimum landing sizes were increased from 10 kg to 30 kg to help curb catches of juvenile or immature fish.
Unlike most tunas, bluefin grow slowly and mature late, making them vulnerable to intensive trawling. Among the ocean's top predators and fastest swimmers, a bluefin tuna can live for at least 15 years, and even as long as 30 years.
The EU's overall bluefin tuna catch is administered by the International Commission for the Conservation of Atlantic Tunas (ICCAT), the global body that oversees the rules for tuna fishing, and is now set for the next five years.
Late last year, ICCAT members reached an agreement to reduce their annual bluefin fishing quota gradually to 25,500 tons in 2010 from the current 32,000 tons.
Within that, the EU's 2007 quota was set at 16,780 tons and falls to 16,210 for 2008. But this year, the EU overshot its quota by more than 4,000 tons due to overfishing by France and Italy, which now face extra national quota reductions for 2008.
The overfishing forced the European Commission to ban bluefin tuna fishing in the Mediterranean and eastern Atlantic for the rest of this year, prompting complaints from other member states, particularly Spain.
(Editing by Sarah Marsh)