Rich and poor gird for climate change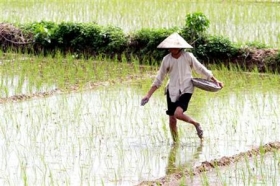 By Raymond Colitt
BRASILIA (Reuters) - People around the world are preparing for floods, droughts and other natural disasters in ways largely dictated by wealth and poverty as evidence of climate change mounts, a U.N. report said on Tuesday.
Even if countries immediately took steps to cut greenhouse gases, global temperatures would continue to rise through 2050 due to accumulated carbon emissions, the U.N. Development Program said in its report. As a result climate disasters will be more frequent.
"All countries will have to adapt to climate change," said the report released in Brasilia on Tuesday.
Like many low-lying areas in the Netherlands, the town of Maasbommel is vulnerable to flooding from rising river and sea levels. Despite a sophisticated system of dikes, residents have built 38 homes with their hollow foundations propped up by steel stilts that allow them to float.
In Vietnam's Mekong Delta, one of the area's most vulnerable to climate change, people also are trying to cope with prospects of increased flooding from storms in the South China Sea. They are being given life jackets and taught to swim under a program sponsored by aid groups, the UNDP said.
The contrast between their bamboo stilts and earth dikes with the flood defense systems in Maasbommel illustrates how climate change "reinforces wider global inequalities," Kevin Watkins, the report's lead author, told Reuters.
"MORALLY WRONG"
While people in rich countries can rely on public investment, those in poor ones must largely help themselves, the report said.
"Leaving the world's poor to sink or swim with their own meager resources in the face of the threat posed by climate change is morally wrong," Nobel Peace Prize laureate Desmond Tutu of South Africa wrote in the report.
Britain spends $1.2 billion annually on flood defense and is mulling an $8 billion investment for the Thames Barrier. The U.S. state California is investing in water recycling and efficiency as it expects a reduction of snow in the Sierra Nevada mountain range, an important water source, by 37 percent in 2035-64, and 79 percent in 2070-90, the report said.
While the Netherlands has 14 weather stations per 10,000 square km (3,860 sq miles) to monitor climate and Britain has seven, African countries have less than one on average.
Still, some pilot projects in developing countries show low-cost measures can make a difference. A simple monitoring system that informs farmers of rain, for example, increased productivity in Mali, the report said.
The UNDP urged rich countries to honor their pledges for climate change aid to developing countries. Otherwise they could face higher costs down the road.
"In the long run, the problems of the poor will arrive at the doorstep of the wealthy, as the climate crisis gives way to despair, anger and collective security threats," Tutu wrote.