NASCAR won't sell stake in company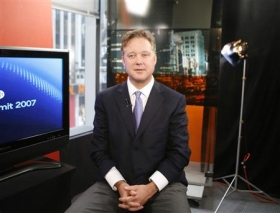 By Ben Klayman
NEW YORK (Reuters) - NASCAR Chairman Brian France on Tuesday dismissed the idea that his family would sell any part of their racing company.
"I can't imagine a scenario where that would happen,"
France, whose family owns the National Association for Stock Car Auto Racing, told the Reuters Media Summit.
"We're committed to the business," he said, adding that he still wanted to add new tracks in several U.S. cities to fuel growth.
Talk of a possible sale began in Europe with a report that a European investment firm was interested in buying NASCAR from the France family. France has said the death earlier this year of his father, Bill France, who helped build the sport's national following, sparked the speculation.
"There's too many stake holders relying on us to bring in private equity or somebody else that would maybe look at the business differently and the sport differently than it should be. We are not for sale," he added, also repeating he has no plans to step down any time soon as head of the sport.
France also said the circuit felt the pressure of high energy prices and the economic slowdown in the United States.
"We are feeling it a little bit," he said. "We're more sensitive to high energy prices than maybe most sports and the reason is how far our fans drive to events."
"We will ... feel that in merchandise sales, (but) people love the sport they follow and tend to make it one of the last things they want to not do in tough times," he added. "We'll be fine."
The France family owns NASCAR, as well as about 62 percent of the voting stock of International Speedway Corp<ISCA.O>, a leading owner of race tracks including the home of the Daytona 500 in Florida.
France said International Speedway, also known as ISC, is still considering adding tracks in New York and Seattle, and reiterated interest in the Denver market. Last December, ISC abandoned efforts to develop a New York track on Staten Island, and did the same in the Seattle area four months later.
"You're going to have some two-steps-forward, one-back mentality and we have had that. New York, Seattle, Denver, all are markets that are interesting to us, in particular New York. Staten Island is not an option, but that doesn't mean there aren't others," he said, adding ISC is looking at alternatives.
However, he cautioned the projects could take years to complete.
"If you look at any stadium development, in particular ours because we need so much real estate, they take 10 or 15 years sometimes to get fully developed," France said.
NASCAR suffered from declining television ratings and flat attendance this season, which just ended with driver Jimmie Johnson winning his second consecutive Nextel Cup championship.
He said NASCAR is not in talks with another automaker, such as Japan's Honda Motor Co Ltd <7267.T> or Nissan Motor Co Ltd <7201.T>, about joining the top Nextel Cup racing series.
"We get inquiries," France said. "We're the biggest opportunity in North America to showcase your products as a manufacturer, so naturally we get a lot of consideration from different people but nothing is imminent."
Japan's Toyota Motor Corp <7203.T> began racing cars in the Nextel circuit this year, three years after joining the truck circuit. It joined U.S. automakers General Motors Corp<GM.N>, Ford Motor Co<F.N> and Chrysler <CBS.UL>.
(Additional reporting by Paul Thomasch)
(Reporting by Ben Klayman, editing by Dave Zimmerman)
(Click on http://blogs.reuters.com/category/themes/mediafile/ to see Reuters MediaFile blog)