U.S. obesity rates level off: government study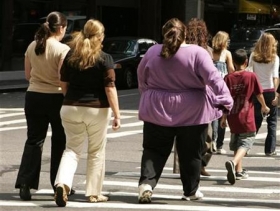 By Julie Steenhuysen
CHICAGO (Reuters) - After 25 years of successive increases, obesity rates in the United States are holding steady, government health officials said on Wednesday.
But Americans are still plenty fat, with more than a third of U.S. adults found to be obese in 2005-2006, according to a report by the U.S. Centers for Disease Control and Prevention.
That amounts to about 72 million people in the United States, about the same as a 2003-2004 report.
"What we can be optimistic about is we haven't seen a giant increase in the last couple of years," said Cynthia Ogden, an epidemiologist for the CDC's National Center for Health Statistics. "But we aren't seeing any decrease, that's for sure."
The CDC defines obesity as a body mass index -- calculated from a person's weight and height -- of 30 or greater.
Ogden said women in the past were more likely to be obese than men, but that picture appears to have changed.
"It's a different story for men and women," she said in a telephone interview. "It used to be that women were more likely to be obese than men. Now, that is not true anymore."
Ogden said obesity rates in women have changed little since the 1999-2000 survey, but obesity rates in men have continued to rise. "Men are catching up to women," she said.
About 35.3 percent of women and 33.3 percent of men were considered obese in the 2005-2006 survey, which is statistically about even.
RACIAL, ETHNIC DISPARITIES
Obesity was most common among adults aged 40 to 59. About 40 percent of men in this age range were obese versus 28 percent of men 20 to 39.
Some 41 percent of women 40 to 59 were obese, compared with 30.5 percent of women in the 20 to 39 age range.
While obesity rates appear to be leveling off, the report shows that Americans on the whole are heavier, and people who are the fattest are much heavier than they were in 1980.
The researchers also found widespread racial and ethnic disparities.
Non-Hispanic black and Mexican-American women have higher rates of obesity than non-Hispanic white women. About 53 percent of black women and 51 percent of Mexican-American women aged 40 to 59 were obese, compared with 39 percent of white women of the same age.
And doctors still seem to consider obesity a delicate subject, the report found, with just 65 percent of obese people reporting that their doctors or other health providers ever told them they were overweight.
Doctors also seem more inclined to let men off the hook, with more women than men reporting they had been told they were too fat by a health provider, Ogden said.
That is an important message because obesity can lead to a host of health problems, including heart disease, some cancers and type 2 diabetes.
(Editing by Will Dunham and Xavier Briand)