Retailers keep "green" behind the scenes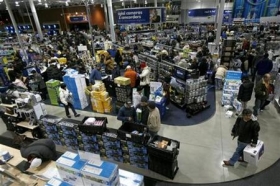 By Nicole Maestri
COLUMBIA, Maryland (Reuters) - Retailers may be touting their environmental-friendliness this year, but just about the only "green" in evidence for the holidays is in the usual Christmas decorations.
Thick catalogs continue to clog mailboxes, store personnel keep handing out free gift boxes, and plastic bags are everywhere.
There is little to no signage in stores emphasizing eco-friendly products, beyond those at select chains known for their environmental thrust.
"There are a lot of stories in the media about 'green,"' said Laurie Brooks, a spokeswoman for L.L. Bean, which sells clothing and outdoor gear. "I think it really hasn't trickled down to the consumer level yet."
And amid fears that shoppers may clamp down on holiday spending in the wake of higher food and fuel prices, the slowing U.S housing market and the credit crunch, retailers are loath to do anything to turn off their clientele.
"The consumer is consumed with other things, and very rarely have they ever endorsed and embraced the green endeavors," said Marshal Cohen, chief industry analyst at research firm NPD Group.
GREEN BEHIND THE SCENES
As fears over global warming have dominated headlines this year, numerous retailers have announced new and expanded plans to cut down on waste and run stores more efficiently.
Wal-Mart Stores Inc, which has a goal of one day being supplied 100 percent by renewable energy and creating zero waste, is pushing its vendors to reduce the amount of packaging they use and make products that consume less power.
Department store operator Kohl's Corp is working on implementing rooftop solar energy systems, while consumer electronics chain Best Buy Co Inc is giving grants to organizations that hold electronics recycling events.
But this holiday season, there is a divide between the environmental tactics retailers are implementing behind the scenes -- like building stores with recycled materials or using hybrid vehicles -- and the shopping experience they provide.
During the Thanksgiving holiday shopping weekend, a Wal-Mart store in Columbia, Maryland, had no displays of the efforts the world's largest retailer is making to go green.
And at a nearby L.L. Bean store, shoppers could scoop up as many boxes as they wanted.
Brooks said L.L. Bean did not actively promote its environmental efforts to its customers, but she said the gift boxes the retailer handed out were recyclable and made from recycled content.
While the company has not cut down on the catalogs it mails, they contain a higher percentage of recycled content, she said.
L.L. Bean has also retrofitted stores with energy-efficient lighting and converted its trucks to biodiesel fuel.
"These are things that aren't really visible to customers," she said. "We're doing it behind the scenes."
MISSED OPPORTUNITY?
Stacy Janiak, U.S. retail leader at Deloitte, said retailers were missing a valuable opportunity by not promoting green products or eco-friendly business practices.
According to a survey commissioned by Deloitte, 18 percent of respondents said they would purchase more eco-friendly products this holiday season than in the past, and 17 percent said they will shop at more green retailers.
"Another key fact from the survey was that 17 percent said they're willing to pay more for green gifts," Janiak said. "That's a big marketing opportunity for retailers. If they're not taking advantage of it this holiday season, you can bet they're going to through the upcoming year."
One retailer making a big push is upscale department store operator Barneys, which sent out a catalog emblazoned with the words, "Have a Green Holiday."
Not worried about its higher-end customers pulling back on spending, it is advertising organic cotton products like a $595 dress and a $68 T-shirt.
But many retailers are debating how far they should push the green concept and whether customers even want these items.
Brooks said L.L. Bean had not seen an overwhelming demand for more organic cotton or bamboo products.
A spokeswoman for Target Corp said that while the discounter sells items like organic cotton sheets and energy-efficient lighting, it was not incorporating a green message into its holiday marketing. Wal-Mart also said it did not have a green marketing plan in place for Christmas.
Although J.C. Penney Co Inc opened a new department store to test eco-friendly building methods, a spokesman said it was too soon to make a big push to sell and promote green merchandise.
"It's something that is growing in importance with the customer," he said, but added: "It's early days."
But NPD's Cohen said the green trend was already over.
"It's basically a card that a lot of people played while it was hot and trendy," he said. "And it got overplayed."
(Editing by Lisa Von Ahn)