Iran wants economic, security pacts with Gulf Arabs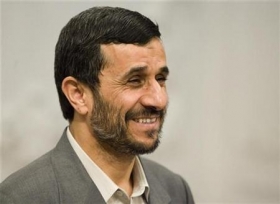 By Mohammed Abbas
DOHA (Reuters) - Iran's President Mahmoud Ahmadinejad told a summit of Gulf Arab heads of state on Monday that Tehran wanted to create an economic cooperation bloc and a joint security pact with them to promote peace and prosperity.
He warned the Gulf leaders that any security problem in one state would affect all countries. Iran is at loggerheads with the United States over its nuclear programme, which the West says is to make a nuclear bomb but Iran says is for energy purposes.
Washington has not ruled out the use of force if negotiation fails. In the two-day summit's opening speech, Qatar's ruler Hamad bin Khalifa al-Thani said the meeting was taking place amid "serious threats" to the region's prosperity and security.
"We welcome peace and complete security without outside influence," Ahmadinejad told the heads of the U.S.-allied member states of the Gulf Cooperation Council in Doha, Qatar.
"Any security problem that could happen in one country will have a negative effect on the security of all countries," he said in the televised speech, in which he referred to the region as the Persian, not Arabian, Gulf.
GCC members Saudi Arabia, Oman, the United Arab Emirates, Kuwait, Bahrain and Qatar share Western concerns about Iran's nuclear programme and some have maritime border disputes with the Islamic Republic.
Ahmadinejad made no mention of his country's nuclear plans, or a Saudi proposal last month to defuse the standoff with the West by supplying Iran with enriched uranium.
However, in a bid to increase ties with the Gulf, Ahmadinejad offered to share Iran's expertise in a range of fields, including "energy and the new technologies." Iran has in the past offered to help the Gulf with nuclear knowhow.
Iran regularly calls for a security cooperation pact with Gulf Arab states as the best way of securing the region and ridding it of U.S. forces, a plan Gulf Arabs have ignored.
ECONOMIC COOPERATION
Iranian officials said this was the first time an Iranian president had been invited to a GCC summit. Ahmadinejad's economic proposals included free trade with Iran's Gulf neighbors, and joint investments in the energy sector.
Iran could also offer water and natural gas to its neighbors, he said. The Islamic republic signed an agreement to supply Bahrain with gas last month.
The United Arab Emirates has a long-running row with Iran over the sovereignty of three islands in the Gulf. Kuwait is also trying to resolve a maritime border dispute with the Islamic Republic blocking the development of a gas field.
Ahmadinejad, who regularly rails against the United States, also said of his trip to Qatar: "It seems a new chapter has been opened in the relations between the Persian Gulf States."
"Iran's definite policy is to promote broad cooperation with all countries particularly friendly neighboring countries."
(Additional reporting by Souhail Karam in Doha, Hossein Jaseb and Edmund Blair in Tehran; Editing by Ibon Villelabeitia)