EU's Dos Santos more worried for growth than inflation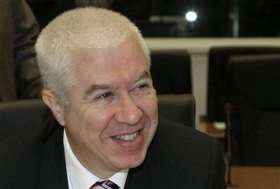 BRUSSELS (Reuters) - A slowdown in the euro zone's economic growth is more worrying than the recent spike in inflation as the global credit crunch is far from over, Portugese Finance Minister Fernando Teixeira dos Santos said on Monday.
Dos Santos, whose country holds the rotating presidency of the European Union, told Reuters he expected more losses at financial institutions by year end and said their scale was still unknown.
"I am more concerned with the slowdown in our economies. I think about inflation we have to wait and see whether this is just a peak in the data or if it is something more permanent. It is too early to assess," he said.
(Reporting by Huw Jones, writing by Jan Strupczewski, editing by Paul Taylor)