Vivendi breakup cloud remains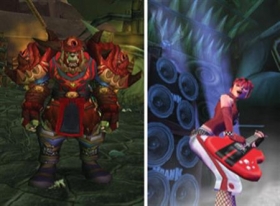 By Nick Antonovics
PARIS (Reuters) - Vivendi's <VIV.PA> deal with Activision Inc <ATVI.O> values the French media company's own video games division at twice as high as many market estimates, but is unlikely to end speculation over a possible break-up of the conglomerate, analysts said on Monday.
Vivendi said on Sunday it would merge its video games business with U.S. games publisher Activision, and take up to a 68 percent stake in the combined company.
The deal will create a new industry leader called Activision Blizzard, valued at $18.9 billion with leading titles such as Vivendi's "World of Warcraft" and Activision's "Guitar Hero."
It put an $8.1 billion valuation on Vivendi Games, or around 5.5 billion euros.
"This operation highlights a very high valuation for Vivendi Games but should strengthen arguments for a big discount to the group," CM-CIC analysts wrote in a research note. CM-CIC has a current target for Vivendi of 33 euros a share.
Vivendi shares closed up 1.02 percent at 31.71 euros, among the top gainers on France's benchmark CAC-40 index <.FCHI>.
Activision shares were up 15.8 percent in morning trading on Nasdaq at $25.65, after hitting a high of $26.72. The Vivendi deal valued Activision at $27.5 per share.
The deal also boosted shares in rival Ubisoft Entertainment <UBIP.PA> amid speculation Electronic Arts <ERTS.O>, which will be eclipsed by Vivendi's new Activision Blizzard entity, may respond by seizing control of Ubisoft.
Vivendi's conglomerate-like structure has in the past led to speculation of a possible break up of the company, which also owns Universal Music, the world's biggest record label, and a minority stake in General Electric Co's <GE.N> NBC Universal.
Analysts said the Activision deal, while strategically a good fit, could further cement the discount placed on the Vivendi group's total value.
Deutsche Bank said in a research note the Vivendi Games valuation implied 2 euros upside to its target price for Vivendi shares of 35 euros. It had previously given a sum-of-the-parts valuation to Vivendi Games of 2.8 billion euros.
ABN-AMRO, which had valued the games unit at 3.9 billion euros, said the new valuation would imply 1.4 euros of upside to its 35.2 euro target price for Vivendi.
"The 1.5 to 3.5 billion euros difference (to the consensus value of Vivendi Games) translates to 1.5 to 3.5 euros per (Vivendi) share," said UBS analysts, noting they had already valued Vivendi's Games division at 5.1 billion euros.
ACTIVISION EARNINGS BOOST
In a presentation to analysts on Monday, Vivendi Chief Executive Jean-Bernard Levy said the deal would be accretive to Activision shareholders and "slightly accretive" to Vivendi's shareholders.
Activision Chairman and Chief Executive Robert Kotick said he expected $50 million to $100 million in cost synergies.
The companies have also forecast 2009 earnings per share in excess of $1.20 on revenue of $4.3 billion.
"We believe we're at the beginning of a tremendous market opportunity," said Activision CEO Robert Kotick.
Analysts said the combination was also a good fit geographically, with Vivendi strong in Asia where Activision is relatively weak.
"We believe this is a good acquisition as Vivendi increases its exposure (the new entity will become the worldwide leader ahead of Electronic Arts) in a sector where size increases the valuation," Spain's Grupo Santander said in a research note. Santander kept a "buy" rating on Vivendi shares.
Based on latest prices, Vivendi shares have risen around 7 percent since the start of 2007, outperforming a 1.6 percent rise in France's benchmark CAC-40 index.
(additional reporting by Sudip Kar-Gupta; editing by Quentin Bryar and Sue Thomas)