Cold temps, calendar seen aiding November retail sales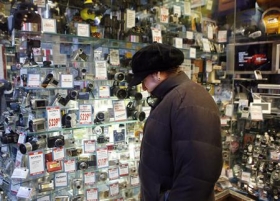 By Nicole Maestri and Martinne Geller
NEW YORK (Reuters) - Retailers should report improved monthly sales on Thursday helped by November's cooler weather and the Thanksgiving holiday shopping weekend.
But a shift in the monthly retail reporting calendar could boost some same-store sales figures in November and deflate results in December, disguising the true winners and losers.
"Comp store sales 'numbers' will be very distorted in the next couple of months for those reporting on the National Retail Federation calendar, making November appear huge, and December appear negative," wrote Edward Weller, an analyst with ThinkEquity Partners LLC, in a note.
Investors will be sorting through the sales figures and the impact of the calendar shift to glean insight into how consumer spending, which makes up two-thirds of the U.S. economy, is holding up amid rising food and fuel costs, lower home values and tighter credit.
The November sales results take on added importance because they include the Thanksgiving shopping weekend, which is seen as the launch of the crucial holiday shopping season.
BIFURCATED CONSUMER
November's winners may include discounters such as Target Corp <TGT.N> and Wal-Mart Stores Inc <WMT.N>, high-end chains like Saks Inc <SKS.N> and Nordstrom Inc <JWN.N> and teen apparel chains with trend-right fashions, analysts said.
Citing the "bifurcated consumer," Lazard Capital Markets analyst Todd Slater said higher-end shoppers are still spending since they are more insulated from economic woes, while others are trading down to chains that offer better value and putting off discretionary purchases to keep covered on everyday staples such as food.
"Even though you may buy one less sweater you're still going to feed your family," Slater told Reuters in a recent interview.
But investors will watch to see if the holiday discounts and cold weather were enough to spur sales at clothing chains like Chico's FAS Inc <CHS.N>, AnnTaylor Stores Corp <ANN.N>, Gap Inc <GPS.N> and Hot Topic Inc <HOTT.O>, which faced lagging sales amid warm weather in September and October.
"Despite continued concerns surrounding consumer confidence and spending, we think Santa will ride his sleigh once again and believe those teen retailers with trend-right fashions will benefit from the holiday rush," said Needham & Co analyst Christine Chen.
Chen expects November same-store sales, which measure sales at stores open at least a year, to rise at Abercrombie & Fitch Co <ANF.N>, Aeropostale Inc <ARO.N>, American Eagle Outfitters Inc <AEO.N>, and Pacific Sunwear of California Inc <PSUN.O>, but she is forecasting a decline at Gap Inc <GPS.N>.
"Aeropostale was one of the key winners in November," wrote Brean Murray Carret & Co analyst Eric Beder in a note. He cited the chain's "color-right looks and newfound fashion sense," as well as a 50-percent-off-the-store sale for Black Friday weekend.
More than 147 million U.S. shoppers stormed malls over the Black Friday weekend, eager to snap up bargains.
But Thursday's sales results will only give part of the holiday picture, since consumer electronics chains Best Buy Co Inc <BBY.N> and Circuit City Stores Inc <CC.N>, some of Black Friday's biggest beneficiaries, do not report monthly sales.
Beder said a solid Black Friday bodes well for monthly sales, along with it being "one of the coldest Novembers in recent history."
In another positive sign, U.S. buyers spent $733 million bargain-hunting on the Internet on the Monday after Thanksgiving, which is seen as the start of online holiday shopping, up 21 percent from a year earlier.
CALENDAR SHIFT
Weather-tracking firm Planalytics called the week ending December 1 "a cold week end(ing) with a potent winter storm that produced a wintry mix across the Plains, Midwest and Northeast." It said demand for seasonal items was improved against last year's very warm temperatures.
But investors will have to be careful to not get overly excited about some November sales results. An extra week on last year's retail calendar has created monthly periods this year that are not exactly comparable to year-ago results.
"Big retail companies will report sales for 'November' and for most, the current 4-week 'month' that will end on December 2 will 'compare' against the 4-week 'month' that ended on November 26 last year," ThinkEquity's Weller wrote.
He added that this year's "December" loses a pre-Christmas week and picks up a post-Christmas week.
"That shift will subtract something like 5-to-6 percentage points from 'December's' comparison," he wrote.
Charles Grom, a retail analyst at JP Morgan, said retailers, including Target, J.C. Penney Co Inc <JCP.N>, Kohl's Corp <KSS.N> and Macy's Inc <M.N> will benefit in November from the pull-forward of a week of holiday sales, which fell in the "December" time frame last year.
(Editing by Leslie Gevirtz)