Obesity behind over half UK maternal birth deaths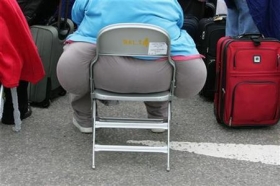 By Andrew Hough
LONDON (Reuters Life!) - More than half of British mothers who died during child birth were overweight, a report found on Tuesday.
The Confidential Enquiry into Maternal and Child Health (CEMACH) said maternal-related deaths in Britain are at a two decade high.
In its annual report, "Saving Mothers' Lives: reviewing maternal deaths to make motherhood safer," it found that of the almost 300 women who died during childbirth between 2003 and 2005 from pregnancy-related conditions, more than half were obese. The deaths left 520 children motherless, it added.
Obese pregnant women are more at risk of dying, suffering heart disease, miscarriage, diabetes, infections and blood clots.
Although the death rate has not changed significantly since 2000, it has risen by around 40 percent since 1985/87, the study showed.
It also found that women from poorer backgrounds were up to seven times more likely to die from pregnancy-related complications.
About 40 percent of deaths were preventable, it added.
Tuesday's report criticized doctors for failing to identify and manage common medical conditions or potential emergencies outside their immediate area of expertise.
It comes just a few days after the Healthcare Commission found that one in four women giving birth in NHS hospitals were left alone during labor, in clear contravention of official guidelines.
The report said that maternal obesity was now a "major and growing risk factor for maternal death."
It called for more pre-conception counseling and advice for obese woman to help tackle the problem.
CEMACH director, Gwyneth Lewis, said the report "clearly shows the impact that a mother's overall health has on the outcome of her pregnancy."
President of the Royal College of Obstetricians and Gynecologists, Professor Sabaratnam Arulkumaran, said maternal obesity puts more pressure on resources.
"Obesity is fast emerging as the public health issue of our generation and its impact on maternity must be taken seriously," he said in a statement.
"Maternity services are already struggling to cope with the increasing birth rate."
(Editing by Stephen Addison and Paul Casciato)