Nokia, techs drop as TI points to 3G weakness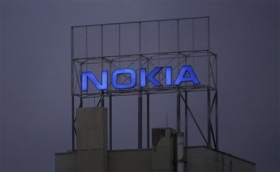 By Tarmo Virki
HELSINKI (Reuters) - Shares in the world's top cell phone maker Nokia <NOK1V.HE> and several other European technology firms fell on Tuesday after Texas Instruments <TXN.N> cut its first-quarter forecasts, citing a weaker 3G market.
Fears that the weakening global economy is biting into consumers' appetite for pricier cell phones sent Nokia shares down 6.6 percent to 20.07 euros ($31.06) by 6:38 a.m. EDT, helping pull the DJ Stoxx European technology index <.SX8P> down 3.1 percent.
"In our view the replacement cycle will slow due to the economy and consumers will increasingly go for cheaper phones over more pricier models," said Carnegie analyst Janne Rantanen.
Texas Instruments said the warning came after one of its key clients cut plans for 3G phone production for March.
Analysts said the 3G customer, which TI did not name, was likely to be Nokia, its biggest client for mobile chips. A Nokia spokeswoman declined to comment.
Citing weak wireless demand especially for third-generation high-end chips, TI cut its January-to-March quarter profit forecast and sales target ranges on Monday.
Brokerage Cazenove and Cheuvreux cut their recommendations on Nokia stock on the news.
Cazenove cut Nokia stock to "in-line" on the news, saying weaker demand for high-end 3G phones was likely to hurt the Finnish firm's average selling price and earnings per share.
"We are usually careful about comments from Nokia's supply chain, but the scale of the downgrade at Texas Instruments and the precision of the comments make us conclude that demand for Nokia's 3G/high-end phones has decreased in the second half of the quarter," Cazenove analysts said in a note.
Other technology shares were hit by the news as well. Shares in Ericsson fell 1.9 percent to 11.92 crowns.
"There is a fundamental reason to sell Ericsson on this as it may indicate less end user demand for 3G in Europe, but much more so to sell Nokia as they are the reason for the TI downgrade," said analyst Per Lindtorp at ABN AMRO.
Shares in Texas's rival chip makers Infineon <IFXGn.DE> were trading 1.3 percent lower in Frankfurt, while STMicroelectronics <STM.PA> stock fell 1.4 percent.
"In our view, STM stands to be the most impacted in Europe as it has focused on 3G ... with little exposure to the low end," Credit Suisse analysts said in a note to clients.
(Additional reporting by Sven Nordenstam in Stockholm; Reporting by Tarmo Virki; Editing by Louise Ireland)