Bali talks won't agree carbon capture: U.N. official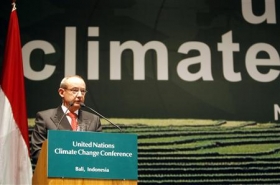 NUSA DUA, Indonesia (Reuters) - Current talks in Bali on climate change will not decide to include support for the burying of greenhouse gases as part of a successor deal to the Kyoto Protocol, the U.N.'s top climate official said.
But the talks may put the so-far unproven technology, carbon capture and storage, on the agenda for future backing, Yvo de Boer told Reuters in an interview on Tuesday.
About 190 countries are meeting in Bali, Indonesia, aiming to launch two years of talks to agree a new global climate change pact to succeed the Kyoto Protocol after 2012.
"I think there's still quite a lot of concern out there about carbon capture and storage," said de Boer.
"I think more pilot projects have to be done, more analytical work has to be done really to convince the skeptics that this is a technology that can be safely applied."
"It (the Bali talks) might put CCS on the agenda as one technology to be considered as part of a mitigation solution."
Carbon capture technology is widely believed to be a crucial weapon without which emissions of the commonest man-made greenhouse gas, carbon dioxide (CO2), may pass dangerous limits.
The technology is supposed to trap emissions from coal-fired power plants, which are proliferating globally, and pump the gas underground. But there is no such commercial-scale power plant project yet anywhere.
That is because of the extra expense to install CCS technology, estimated at some $1 billion per plant.
One idea is that, under a new global climate deal, rich countries could meet their emissions limits by funding carbon capture projects in developing nations, earning carbon offsets in return.
Because no new commercial-scale CCS projects are expected to be operational for several years, the technology is only relevant to a Kyoto successor deal.
(Reporting by Gerard Wynn and Alister Doyle, Editing by Anthony Barker)