Iran says U.S. failing in Middle East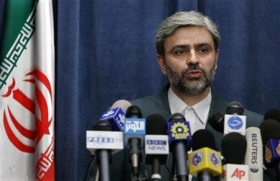 TEHRAN (Reuters) - Iran accused the United States on Sunday of interfering in the Middle East after President George W. Bush said he would press allies to help keep Iran's "aggressive ambitions" in check during a regional trip this week.
"The aim of these repeated trips is to compensate for the failed policies of America in the region," Iranian Foreign Ministry spokesman Mohammad Ali Hosseini told a news conference.
He said Washington, which is leading efforts to isolate the Islamic Republic over its disputed nuclear ambitions, was "interfering in the relations of countries in the region" but that Iran had nevertheless boosted ties with its neighbors.
"America has not been successful in isolating Iran," he said. "We are witnessing the expansion of Iran's relations with different countries."
Bush will travel to Israel and the Palestinian West Bank as he tries to help the two sides reach a peace agreement. But he will focus on Iran when he visits five regional allies -- Kuwait, Egypt, Saudi Arabia, United Arab Emirates and Bahrain.
Iranian President Mahmoud Ahmadinejad last month became the first president from non-Arab Shi'ite Iran to attend a summit of Gulf Arab states, which worry that Tehran might one day use nuclear arms to dominate the region.
"I will discuss the importance of countering the aggressive ambitions of Iran," Bush said on Saturday about his Middle East trip. "And I will assure them that America's commitment to the security of our friends in the region is strong and enduring."
The United States has accused Iran of trying to develop nuclear weapons under the cover of a civilian energy program, a charge Tehran has denied. A U.S. intelligence report in December found Iran had halted its weapons program in 2003.
Bush said in an interview with Reuters on Thursday he would explain the U.S. National Intelligence Estimate to the allies and that he still viewed Iran as a danger.
The United States severed ties with Tehran shortly after Iran's 1979 Islamic Revolution.
Iran's Supreme Leader Ayatollah Ali Khamenei suggested on Thursday that ties might one day be possible with Washington, although he said it would harm Iran to restore relations now.
Hosseini said: "In regards to the continuation of America's hostile policies towards Iran, we have no plans to normalize relations with America and this issue is not on the agenda."
Iranian leaders have often said they would not establish ties with the United States unless Washington changes its behavior towards the Islamic Republic.
(Reporting by Hossein Jaseb; Writing by Fredrik Dahl; Editing by Elizabeth Piper)