OPEC ministers say expect to keep output steady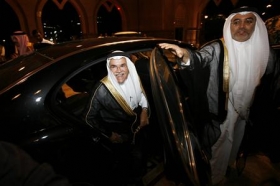 By Peg Mackey and Summer Said
ABU DHABI (Reuters) - OPEC was set on Wednesday to rebuff consumer country calls for more oil and leave supplies unchanged, ministers said, risking a rise in crude prices back above $90 a barrel.
Oil ministers at the opening of an Organization of the Petroleum Exporting Countries meeting said they saw no reason to change output policy.
"We've seen nothing yet to justify an increase or a decrease," said powerful Saudi Oil Minister Ali Naimi.
"Our position is that demand and supply are balanced and there is no need to increase oil to the market," said Iranian Oil Minister Gholamhossein Nozari
OPEC was scheduled to go into a closed session to reach a decision at 0800 GMT (1200 local time).
OPEC is under pressure from big consumers like the United States to raise output to help contain an oil price rally that saw crude hit a record above $99 a barrel on November 21.
Expectations for an increase from the 13-member group that includes new members Angola and Ecuador were one of the factors behind a reversal in prices close to $88 on Tuesday.
OPEC has argued that its supplies are already sufficient to meet winter fuel demand and that speculators are to blame for high prices.
Producers also point to a decline in the value of the U.S. dollar which makes dollar-denominated oil less expensive in non-dollar economies.