Broccoli compound may ameliorate skin disease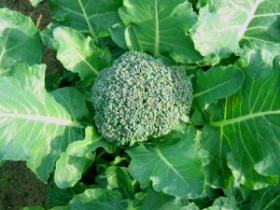 NEW YORK (Reuters Health) - The natural compound sulforaphane, which is abundant in broccoli and other cruciferous vegetables, may have a role in the treatment of epidermolysis bullosa simplex, according to research presented during the annual meeting of the American Society for Cell Biology in Washington, DC.
Epidermolysis bullosa simplex is a genetic condition that causes the skin to become fragile and blister easily from minor injuries or friction, such as rubbing or scratching. The signs and symptoms of the condition vary widely -- blistering may primarily affect the hands and feet and heals, while severe cases involve widespread blistering that can lead to infection, dehydration and may be life-threatening in infants.
In a telephone interview with Reuters Health, Dr. Pierre A. Coulombe, of Johns Hopkins University School of Medicine, Baltimore, noted that most cases of epidermolysis bullosa simplex are due to mutations in the genes encoding the proteins keratin 5 (K5) or keratin 14 (K14), proteins that normally form skins cells.
The idea of using topical sulforaphane to treat epidermolysis bullosa simplex, the researcher explained, takes advantage of a functional redundancy within the keratin gene family.
"We show that we can achieve a significant degree of amelioration of skin blistering in a mouse model of epidermolysis bullosa simplex by treating with sulforaphane that is able to turn on two keratin genes, whose sequence and properties are very related to one of the two keratin genes that is defective in epidermolysis bullosa simplex," Coulombe told Reuters Health.
Sulforaphane treatment results in the production of skin cells that relieve the blistering caused by a K14 deficiency in the mouse mode of epidermolysis bullosa simplex.
Sulforaphane and similar drugs "represent promising options for the prevention of skin blistering associated with K14 mutations in epidermolysis bullosa simplex," the investigators write.
Currently available treatments for epidermolysis bullosa simplex only relieve the symptoms, rather than provide a cure, and they also yield limited success. Coulombe hopes that one day sulforaphane may be a major treatment or component of treatment for patients with epidermolysis bullosa simplex.
The investigators are in the very early stages of trying to translate this into patients. "We already have some indications that when applied to human skin, sulforaphane will induce the right kind of keratin genes," Coulombe noted.