China orders mines shut in Shanxi and Heilongjiang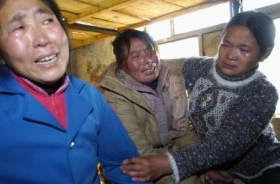 BEIJING (Reuters) - China has ordered the shutdown of all illegally-operated coal mines in northern Shanxi province and 661 non-coal mines in Heilongjiang province after a blast last week killed 105 people, state media said on Monday.
The government will also pay 215,000 yuan ($29,000) in compensation to families of victims of the coal mine accident in Hongtong county in coal-rich Shanxi province.
"So far, relatives of 72 victims have received economic compensation," Zhao Shuangbao, deputy head of Hongtong county, was quoted as saying by Xinhua news agency.
The bodies of at least 105 people have so far been recovered from the Hongtong county mine, which was hit by an explosion on Wednesday.
At the time, 128 miners were working in the shaft, more than double the maximum of 60 per shift approved by Shanxi coal mine authorities.
The mine produces about 210,000 tons of coal a year.
Jiangxi province in eastern China ordered the closure of all coal mines producing less than 30,000 tons a year in November, following the deaths of 16 trapped Chinese miners on the first day of a major Communist Party Congress in October.
Heilongjiang in northern China was shutting 661 non-coal mines, which account for a third of the province's 1,980 non-coal mines, as it tried to increase efficiency and conserve resources, Xinhua said in a separate report on Monday.
The uneven layout of mines in Heilongjiang had led to economic inefficiency, safety hazards, and sparked environmental concerns.
"There are too many small ore mines rather than big ones and lean ores versus rich ones," the report said.
Heilongjiang had implemented the plan in seven non-coal mine districts south of the Mudan river and another plan to cut the number of non-coal mines was expected to be carried out by the end of 2008.
China has forced many small mines to close over the last two years, helping to reduce the death toll from coal mining to 3,069 in the first ten months of this year compared to 4,746 in 2006.
Iron ore prices hit a record high at the end of November, giving local miners added incentive to push production beyond safety limits.