Motorola backs fourth-quarter forecast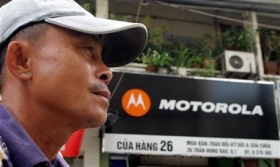 By Sinead Carew
NEW YORK (Reuters) - Mobile phone maker Motorola Inc <MOT.N> backed its forecast for fourth-quarter earnings and revenue growth on Thursday, sending its shares up 3.6 percent.
The news was a relief for investors who had worried that last week's announcement on the departure of Chief Executive Ed Zander was a sign that Motorola would miss its targets.
"What we failed to take into account, frankly, is that you would have great angst over the fact we made that announcement, and didn't confirm" fourth quarter guidance at the same time, Chief Financial Officer Tom Meredith told a Lehman Brothers investor conference.
He backed Motorola's forecast for earnings from continuing operations of 12 cents to 14 cents per share, and said its mobile device unit would see sequential revenue and bottom-line improvements.
Motorola has been losing mobile phone market share to rivals such as Nokia Oyj <NOK1V.HE> and Samsung Electronics Co Ltd <005930.KS> amid criticism of its phone line-up.
"It was very helpful for the company to make this statement today," said Oppenheimer analyst Lawrence Harris, who described Motorola's share rise as a relief rally.
Meredith also said Motorola's set-top box and networks business would see a sequential revenue increase and an improvement in operating profit margins.
He said its enterprise unit, which serves large customers, would see sequentially higher sales and continue to post operating margins in the double-digit percentage range.
The CFO also said that Motorola, which shifted its focus earlier this year to profitable growth, from market share growth at all costs, was changing tack again by making a push into the market for lower priced phones.
"There is a shift. We focus on margins obviously. Now we're focused on the balance between that and market share, that includes going after low-tier," he said.
Meredith acknowledged the change in strategy would hurt average selling prices, but said it would help stop Motorola's competitors from taking market share.
Motorola had eased off competing on phone prices in some emerging markets, where larger rival Nokia has managed to gain market share.
Referring to margins, market share and average selling prices, Meredith said: "In an ideal world, balance between those three is what is wanted."
BREAK-UP?
Asked about a recent call by activist investor Carl Icahn for Motorola to break into several units, Meredith would not rule out structural changes.
"I believe there's every opportunity for us to create significant economic value as a whole. Does that mean other options aren't viable? Not at all. A change in circumstance sometimes requires a change in action," he said.
While Icahn advocated a split of the company into several different parts, other investors have called for just a sale or spin-off of the network equipment unit while some have suggested a divestiture of the set-top box division.
Oppenheimer's Harris said it was not immediately obvious that splitting mobile devices from network equipment would help. "There are good business and technology reasons to keep those businesses together," the analyst said.
Motorola reported its first profit for this year in the third quarter as the company was weighed down by losses in its mobile device business.
Meredith said problems at the mobile devices unit related to execution and failure to deliver high-speed wireless phones on time, and were not due to the competitive landscape or macroeconomics.
He declined to say when the unit would turn a profit but promised that Motorola would see significant improvement in competitiveness in the second half of 2008.
Motorola shares, which have lost about 38 percent of their value since October 2006, closed up 3.6 percent to $16.31 on the New York Stock Exchange.
(Editing by Phil Berlowitz and Tim Dobbyn)