Dow Jones CEO Zannino to leave company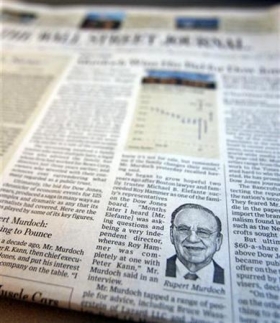 By Robert MacMillan
NEW YORK (Reuters) - Dow Jones & Co Inc <DJ.N>, publisher of The Wall Street Journal, said on Thursday that Chief Executive Richard Zannino will quit once Rupert Murdoch's News Corp <NWSa.N> acquires the company.
Zannino is expected to walk away with a severance and benefits package of around $21 million based on the company's proxy filing.
His resignation appears to be the beginning of management changes in anticipation of the deal's closing. Dow Jones and News Corp did not name a successor, but the Journal reported on its Web site Thursday that veteran News Corp executive Les Hinton would take over once the deal is complete.
Hinton is executive chairman on the media conglomerate's News International division.
News Corp and Dow Jones declined to comment on the report.
Times of London Editor Robert Thomson, who had been widely expected to join the Journal, will become publisher of the business newspaper, according to the report. Times business editor James Harding is expected to succeed Thomson.
Zannino took over as Dow Jones CEO 2006 as the newspaper industry struggled with declining readership and competition for advertising dollars from new media like the Internet.
Earlier this year, Zannino helped broker the company's $5.6 billion proposed sale to News Corp, which would add Barron's, Marketwatch.com and other media as well as the Journal to its international news empire.
"While I completely disagreed with (Zannino's) support for the sale of Dow Jones to News Corp, I do think he did a good job ... leading Dow Jones through a very difficult advertising recession to a very successful transition to a much more electronically based publishing company," former Dow Jones board member Jim Ottaway Jr. said in an interview.
ZANNINO WILL RETURN
In a phone interview, Zannino said he would like to return to the corporate world, maybe in the media or retail businesses, after taking some time off.
He has held senior executive roles at Liz Claiborne Inc <LIZ.N> and Saks Holdings Inc prior to joining Dow Jones in 2001 as its chief financial officer.
Zannino also disputed speculation he was pushed out of the company, saying he and Murdoch reached an "amicable and friendly" agreement in September about his leaving.
"I was a public company CEO, I am a public company CEO. Being a divisional CEO is a lot different," he said. "And Rupert is very hands-on, especially with something like Dow Jones and the Journal, which he's coveted for so long.."
Dow Jones shareholders are expected to approve the deal at a meeting next Thursday. No regulatory hurdles remain for the deal, a News Corp spokesman said.
Reuters Group Plc <RTR.L> competes with Dow Jones in providing news and data.
(Additional reporting by Paul Thomasch and Kenneth Li; Editing by Gerald E. McCormick/Jeffrey Benkoe/Leslie Gevirtz)