Jobs shed for 4th straight month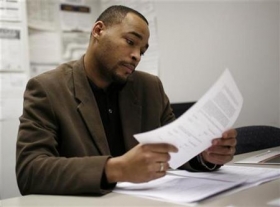 WASHINGTON (Reuters) - Employers cut jobs for a fourth straight month in April, though not as vigorously as feared, according to a government report on Friday that also showed an unexpected improvement in the unemployment rate last month.
The Labor Department said 20,000 jobs were shed last month, far fewer than the 80,000 that economists surveyed by Reuters had anticipated would be lost. That followed upwardly revised losses of 81,000 jobs in March and 83,000 in February. Employers also cut 76,000 jobs in January.
The unemployment rate eased to 5 percent in April from 5.1 percent, contrary to forecasts that it would pick up to 5.2 percent.
Though the losses in jobs last month were less than forecast, they nonetheless represented continued deterioration in hiring prospects. The four-month string of monthly losses is the longest since a five-month stretch in 2003, when the economy was still in a so-called jobless recovery from the last recession in 2001.
The department said 61,000 construction jobs were lost in April, the largest number for that sector since 103,000 were cut in February 2007. The department said that since peaking in September 2006, some 457,000 construction jobs have been lost.
Goods-producing businesses cut 110,000 jobs in April, the largest number of job reductions since January 2002, after trimming 88,000 in March. But service industries added 90,000 jobs - the most since last December - with most of them coming in the health care and professional technical services sectors.
Both the number of hours worked and overtime hours weakened slightly in April from March, a sign employers were making every effort to keep a tight lid on employment costs.
(Reporting by Glenn Somerville, editing by Joanne Morrison)