Britain plans big move towards wind power: paper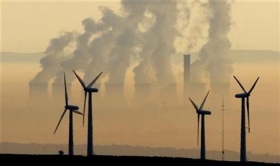 LONDON (Reuters) - Britain is planning to boost wind power generation to produce enough electricity to power every home in the nation by 2020 in a policy shift signaling less reliance on nuclear energy, the Independent newspaper on Sunday reported.
Britain's secretary of state for business, John Hutton, will announce on Monday that he will open up the seas around Britain to wind farms in a big renewable energy initiative and a reversal from a previous push towards nuclear power.
"By 2020 enough electricity could be generated off our shores to power the equivalent of all the UK's homes," Hutton is expected to say in a speech to the European energy industry in Berlin on Monday.
"The challenge for government and for industry is to turn this potential - for our energy and economy - into a cost-effective reality. This will be a major challenge," Hutton is expected to say, according to the paper.
Hutton will identify sites in British waters for wind farms to produce 25 gigawatts (GW) of electricity by 2020, in addition the 8 GW already planned.
The move will put the country well on the way to achieve the European Union target to provide 20 percent of the nation's energy from renewable sources by 2020.
Only weeks ago Hutton was resisting a major expansion of renewable sources on the grounds that it would interfere with plans to build new nuclear power stations.
Companies like Scottish and Southern Energy are looking to diversify power generation and it has a raft of new projects planned to harness more energy from renewables such as the wind. The British arm of Germany utility E.ON is developing a giant battery to store wind power.
(Reporting by David Jones; Editing by Paul Bolding)