World not doing enough on climate change: IEA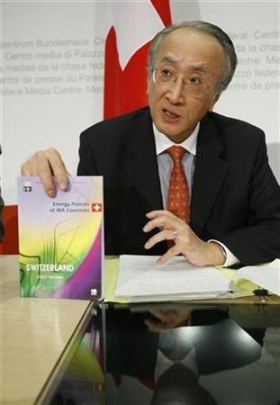 NUSA DUA, Indonesia (Reuters) - The world has tools to cut emissions massively but is not using them or investing enough in technology needed to avert dangerous climate change, the head of the International Energy Agency said on Tuesday.
Nobuo Tanaka said little time should be spent on celebrating the tenth anniversary of the Kyoto Protocol to tackle global warming, because rapid emissions growth was making its targets less relevant and governments were moving too slowly.
"The most scarce resource on earth is not natural resources, nor the capital investment or money, but time. And now is the time for action," he told a news conference on the sidelines of U.N. climate talks in the Indonesian island of Bali.
"The new technologies need research and development, but...our efforts are not so promising," he said.
The IEA is the energy policy advisor to 26 industrialized countries.
The December 3-14 meeting is seeking to agree guidelines to launch formal negotiations on a new deal for all nations to curb greenhouse gases beyond 2012, widening Kyoto which only sets targets for 36 industrialized nations.
Tanaka said targets and prices, while helpful, were not enough. Governments need to have systems ready to convince investors to channel an estimated $22 trillion required to reform the energy sector by 2030. And they need to act.
"The important thing in energy efficiency is we know what to do, and governments know what to do, but to implement this is very difficult, because we need to change the lifestyle of people," Tanaka told a news conference.
"So the first important thing is: implement. The second most important thing is: implement, and the third is: implement," Tanaka told the conference.
To foster this change, the IEA is trying to develop a global index of energy efficiency that would allow easy comparisons between different areas and nations.
But to keep emissions growth within a limit recommended by a U.N. climate panel, the IEA estimates that the world would need to move with unprecedented speed to shift investment.
For example, from 2013 all coal-burning power stations should be fitted with carbon capture and storage.
Time is particularly important with these generators, because coal is so polluting and plants built now will lock in emissions levels for decades.