Sharp files LCD patent suit against Samsung Elec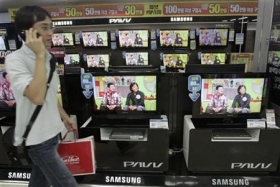 TOKYO/SEOUL (Reuters) - Japan's Sharp Corp <6753.T> said on Wednesday it is suing Samsung Electronics Co Ltd <005930.KS> because the Korean firm's liquid crystal display (LCD) modules and LCD TVs infringe on its patents.
It is the latest in a series of legal tussles among Asian technology companies as they increasingly focus on intellectual property to survive fierce competition.
Sharp, the world's third-largest LCD TV maker behind Samsung and Sony Corp <6758.T>, said it has asked Seoul Central District Court to award it compensatory damages and prohibit the production and sale in South Korea of the products concerned.
"Samsung Electronics will respond actively to this lawsuit," Samsung spokesman James Chung said.
Some recent patent lawsuits brought by Asian electronics firms have been met with countersuits by accused firms.
The three patents named in the latest suit relate to brightness, response speeds and viewing angles of LCD panels, Sharp said.
Besides its own panel and TV operations, Samsung runs an LCD panel joint venture, called S-LCD, with Sony. A Sharp spokesman said S-LCD products are outside the scope of the lawsuit.
The Osaka-based company filed another LCD patent infringement suit in the United States in August against Samsung and its subsidiaries.
Global LCD TV sales rose to $17.5 billion in July-September, up 48 percent from a year earlier, according to research firm DisplaySearch, but many LCD TV suppliers are struggling to generate profits due to sharp price declines.
In recent legal disputes among Asian electronics makers, Japan's Taiyo Yuden Co Ltd <6976.T> filed a patent suit in the United States against Taiwan's Prodisc Technology Inc <2396.TW> and Ritek Corp <2349.TW> for violation of manufacturing technology for DVD-R discs.
Prior to the announcement, shares in Sharp closed down 0.3 percent at 1,959 yen, largely in line with the Tokyo stock market's electrical machinery index <.IELEC.T>.
(Reporting by Kiyoshi Takenaka in Tokyo and Marie-France Han in Seoul, Editing by Michael Watson)