IBM's Green Drive Reaches South Africa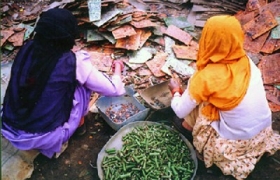 Source: Triple Pundit
According to the base case reference scenario built into the US Energy Information Administration's International Energy Outlook 2006, worldwide electricity demand is expected to grow at a healthy average 2% per annum pace between 2000 and 2030—increasing from 400 to more than 700 quadrillion BTUs per year. The majority of increasing demand will be in industrializing countries where more than 80% of the world's population will live by 2030.
Africa, for instance, currently accounts for only 1.4% of global carbon emissions, but foreign investment has been pouring into countries across the continent. Demand for increasingly costly natural resources is a primary driver, but there is a definite and growing focus on environmental health and sustainable development on the part of both governments and business organizations.
Leading IT companies like IBM are playing an important role in such efforts. IBM has appointed executives, such as Maureen J. Baird, to lead a "Big Green" drive across the organization's far flung operations. "IBM is uniquely positioned to work in all industries and all sectors bringing thought leadership and industry best practices," according to Baird, IBM South Africa's Business Development, Winback & Solutions Executive.
Institutionalizing Green Practices
"Research has shown that there is a direct correlation between economic growth and carbon emissions. As economic growth accelerates in Africa, IBM is positioned to help companies understand their current carbon footprint, to help customers develop their policies and governance models for carbon footprinting and to identify areas for immediate carbon footprint improvements."
In-house, IBM South Africa is institutionalizing a well-defined yet fluid set of "green" practices. IBM South Africa, for example, is responsible for managing, evaluating and reporting on the company's own "green" initiatives and environmental affairs. Its offices around the world are regularly assessed according to criteria set out in Country Annual Environment Reports (CAER), Baird elaborated. These include:
1. "Climate and Energy" – usage of equipment, such as data centers (Sandown Data Centre and Business Continuity and Recovery Services sites), cooling systems, electricity usage, etc.;
2. "Air" - including, for example, office air-conditioning;
3. "Waste Management" – such as disposal of its own equipment, e-waste, which includes laptops, desktops, servers, monitors and even the fluorescent tubing of office lights;
4. "Ground and Water";
5. "Chemical Management";
6. "Regulatory Activity" -- in line with global and local regulations;
7. "Environment cost" – what is spent on environmental activities:
8. "Supplier evaluation" – constant and vigorous evaluation of suppliers against IBM's requirements and service licensing agreements.
The company is also tackling the big and thorny problem of e-waste. "Once our e-waste has been dismantled, it is sorted into hazardous and non-hazardous waste. For example, non-hazardous waste includes paper and cardboard, plastics, precious metals, ferrous and non-ferrous metals. Hazardous waste includes, for example, the mercury in the fluorescent tubing, and the CRT (Cathode Ray Tubes) in the monitors."
IBM's Big Green initiative extends to outside suppliers and service providers. Hazardous waste, for instance, is managed and disposed of by Enviroserve. Moreover, "supplier evaluations are done every second year by procurement, under the guidelines of CI109 (Corporate Instruction 109). Suppliers are required to have certain certificates and permits, completed an environmental impact assessment, and require insurance cover for environmental impact damage control," Baird continued.
"IBM Khulani Park, where most of our IT maintenance services are based, has initiated an upliftment project around our plastic waste, called the 'Green Cage' project. All non-hazardous plastic waste is deposited at Khulani Park, which can be collected by anyone who wishes to earn a few Rands by 'selling' this waste to plastic recycling companies."