Israel and Palestinians launch peace talks in discord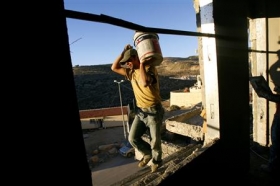 By Adam Entous and Wafa Amr
JERUSALEM (Reuters) - The first peace talks in seven years between Israel and the Palestinians opened in discord on Wednesday with the Palestinians demanding a halt to settlement building and Israel calling for a crackdown on militants.
The tensions, coming just two weeks after a U.S.-sponsored peace conference in Annapolis, Maryland, highlighted the difficulties ahead for negotiators trying to reach agreement on a Palestinian state before U.S. President George W. Bush leaves office in January 2009.
Wednesday's negotiating session was supposed to lay the ground for detailed talks on final-status issues, including borders and the future of Jerusalem and Palestinian refugees.
Instead, the first round was dominated by Palestinian demands Israel halt plans to build new houses on occupied land near Jerusalem and concerns about Israeli military activity in the Hamas-controlled Gaza Strip, officials on both sides said.
The Palestinians said future negotiating sessions depended on Israel's response on the settlement issue, but they stopped short of threatening to pull out of the talks.
"We want to hear a reply to our demands," said chief negotiator Ahmed Qurie.
Israeli Prime Minister Ehud Olmert's spokesman, Mark Regev, said both sides raised concerns during the 90-minute session. "This process does not have a quick fix," he said. "It's clear the issues on the table will demand ongoing diplomatic efforts."
The United States, which pushed for the talks, said it was important not to make snap judgments after one meeting.
"There will be ups, there will be downs," State Department spokesman Sean McCormack said. "What is important is that they continue to move forward and that the overall trend line is positive."
The talks came one day after Israel carried out one of its biggest raids into Gaza since the Islamist group seized control of the coastal territory in June. Five militants were killed.
Israel's army chief, Lt. Gen. Gabi Ashkenazi, told a security conference in Tel Aviv that a big offensive in Gaza may be inevitable, although he said smaller Israeli strikes were having an impact on militants firing rockets into Israel.
The mayor of Israel's border town of Sderot resigned in protest over the government's failure to halt the rockets.
The negotiating teams met at an Ottoman-era villa overlooking Jerusalem's Old City, with Israel's barrier in the occupied West Bank visible in the distance.
While Israeli officials described the atmosphere as "tense," they said the teams will meet again in about two weeks.
TENSION FLARES
Wednesday's talks went ahead despite calls by some Palestinians for a boycott over Israeli plans to build new houses at a settlement near Bethlehem known to Israelis as Har Homa and Palestinians as Abu Ghneim. Israeli construction at the same settlement derailed a previous round of talks in 1997.
"The Israelis must understand that the issue of settlements, the Gaza attacks and implementation of 'road map' commitments are issues of great importance and have a great impact on the negotiations," said Qurie.
Israel's lead negotiator, Foreign Minister Tzipi Livni, called for the Palestinians to address Israeli security concerns. "They need to do it urgently," an official said.
The long-stalled "road map" peace plan asks Israel to halt settlement activity and the Palestinians to rein in militants.
Israel says the building in Har Homa is legal but the tender for about 300 homes has provoked rare censure from Washington.
"Events like Har Homa underline the importance of coming to a final-status settlement," McCormack said in Washington.
After meeting Palestinian President Mahmoud Abbas, newly appointed U.N. Middle East envoy Robert Serry said Israel's Har Homa plan was "unhelpful and contrary to international law."
Hamas, whose grip on Gaza has complicated Israeli-Palestinian talks, has rejected the peace push. "We urge the Palestinian Authority to stop these pointless negotiations," Hamas official Sami Abu Zuhri said.
(Additional reporting by Ari Rabinovitch and Rebecca Harrison in Jerusalem, Nidal al-Mughrabi in Gaza and Sue Pleming in Washington; editing by Matthew Tostevin)