Seychelles promises to protect its sharks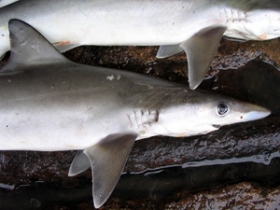 PORT LOUIS (Reuters) - The Seychelles will protect its rapidly declining shark population, the government said on Wednesday, after a Taiwanese fishing boat was caught in its waters with an illegal load of fins.
Booming demand for shark fin soup in Asia, especially China, is driving the shark fishing industry and increasing the risk of extinction for some shark species, marine scientists warn.
Conducting searches around the 115-island Indian Ocean archipelago last week, a French navy ship found 650 kg of shark fins aboard a Taiwanese fishing vessel. The fishermen's paperwork said only 15 kg were caught in Seychellois waters.
"We could only get them for the 15 kg, not for the rest, but this shows you the volume of sharks caught," Didier Dogley, permanent secretary at the Seychelles' Environment Ministry, told Reuters by telephone.
"We are going to crack down on illegal shark finning ... We have already started with the patrolling."
The 650 kg of dried shark fin that was discovered would have come from about 13 tonnes of sharks, he added. Some shark fishermen cut off the fins before throwing the shark back into the water -- where they drown because they cannot swim.
Dogley was speaking as scores of delegates from around the world held the second of three days of talks in the Seychelles to discuss how to best protect shark populations.
The whale shark -- the largest fish species, growing up to 20 meters long -- visits the Seychelles between August and November.
"These sharks are very important for countries like us," Dogley said, referring to Seychelles' eco-tourism industry.
"If you're lucky, you can see about a dozen."
(Additional reporting by George Thande in Victoria; Editing by Daniel Wallis)