Land temperatures seen warmest in 2007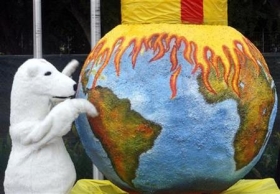 TOKYO (Reuters) - The average global land surface temperature this year will be the highest since records began in 1880, partly due to greenhouse gas emissions, Japan's weather agency said on Thursday.
Natural climate fluctuations contributed to the temperature rises, said the report by the Japan Meteorological Agency.
The report coincided with the December 3-14 international talks on the Indonesian island of Bali to discuss a new climate treaty to succeed the Kyoto Protocol after 2012, but it was not presented there.
The average land surface temperature from January to November this year was higher than in the past in all regions except for southern South America, the report said.
It said the ocean surface temperature was higher in most areas except for the eastern Pacific Ocean near the equator.
The global average land surface temperature in 2007 was forecast to reach 0.67 degrees Celsius above the mean average temperature of the 30-year period from 1971 to 2000.
In 2005 and 2006, the global average land surface temperature was 0.58 degrees Celsius above the mean from 1971 to 2000.
Scientists say global average temperatures will rise by between 1.8 degrees to 4.0 degrees Celsius due to carbon emissions, likely increasing risks of melted ice caps, floods and famines.
(Reporting by Yoko Kubota; Editing by Grant McCool)