High winds likely to spread S.Korea oil spill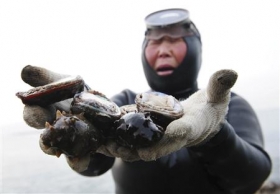 By Lee Jae-won
TAEAN, South Korea (Reuters) - Strong winds on Thursday threatened to spread the devastation from South Korea's worst oil spill and cold weather hit already slow clean-up efforts by thousands of exhausted workers.
Six days after a crane barge punched holes into a huge oil tanker which then spewed 10,500 metric tons of its load into the sea, the government said it would make available more than 300 billion won ($325 million) in loans to help residents who say they face ruin.
The coast guard sent in dozens more ships and planes as high winds looked likely to carry the slick from the Hebei Spirit tanker to more of the west coast region, famed for its sandy beaches, oyster beds and nature reserve.
The ships are trying to break up the oil into smaller, more manageable slicks while planes spray chemicals to break it down.
"It is pretty devastating. There will be no fishing here for next 10 years, and I'll be past sixty," said Hong Sung-ku, a volunteer cleaner.
He had driven about 150 km (95 miles) southwest from Seoul at dawn and was working alone in the quiet port of Kemok, his favorite fishing spot, cleaning thick oil from oyster shells.
The leak is about a third of the size of the 1989 Exxon Valdez spill of crude oil onto Alaska shores, the costliest on record at $9.5 billion including settlement of claims.
PAINFULLY SLOW
Recovery of the oil has been painfully slow since the spill last Friday. The maritime ministry conceded it was not properly prepared for such a disaster and did not have enough equipment.
Cold air pushed into the area by winds is further hampering workers, already exhausted and some overcome by sulfur fumes.
Resource-poor but factory-rich, South Korea is one of the world's largest importers of oil, most of it arriving by single hulled tankers such as the Hebei Spirit.
The government has said it will not tighten rules to phase out the use of such tankers beyond its commitment to a 2010 deadline. Some European countries are phasing them out more quickly.
More than 21,000 workers, mostly volunteers and local residents, are trying to clear the beaches, now black and stinking of sulfur fumes.
Some were critical of the latest offer from the government, which has already declared parts of the Taean region a disaster area, so entitling it to aid to pay for clearing up the mess.
The plan will allow people to borrow from state banks for as little as one percent interest and defer payment on existing loans.
"Wouldn't you expect the government to actually do more?" complained Chung Nak-joong, a resident of Mallipo beach where he said most residents make a good living running motels and small restaurants.
($1=923.3 Won)
(Writing by Jack Kim, editing by Jonathan Thatcher and Grant McCool)